JMU Alternative Break Program Volunteers Bound for Louisiana
---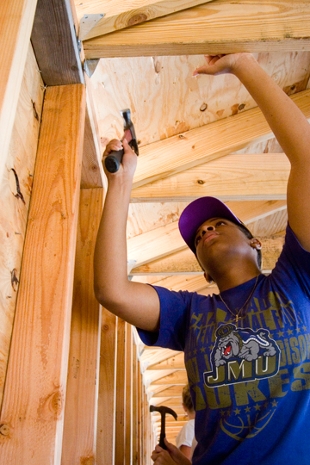 HARRISONBURG - Fifty-six James Madison University students and alumni, including a handful of just-graduated members of the Class of 2008, will fill JMU's largest bus and embark late Saturday, May 3, for New Orleans to help with rebuilding. 
The weeklong journey is the third May JMU Community Service Learning Alternative Break Program trip to the Gulf Coast since hurricanes Katrina and Rita slammed the area in August and September 2005, respectively. 
"The demand for the trip continues to grow every year, which is great," said Jeremy Hawkins, programs administrator for the Festival Conference and Student Center, JMU alumnus and one of three site leaders for the work in New Orleans and St. Bernard Parish. Students quickly filled slots for the trip, with 182 more students placing their names on a waiting list. 
Hawkins and site leaders Mark Bushey, a rising senior, and Erin Coffman, a graduating senior, are veterans of the 2006 trip to Waveland, Miss., and the 2007 trip to the New Orleans area. They anticipate the JMU group will engage in work similar to last year's efforts. 
In addition to building projects spearheaded by Habitat for Humanity, JMU volunteers may work with other agencies, such as Animal Rescue New Orleans and The Green Project, a nonprofit organization that salvages and recycles usable building materials. 
"The very first trip, you could still see the debris and most of our work was gutting houses," Bushey said. "Last year you didn't see as much debris, but there were still a lot of empty neighborhoods. Maybe one or two houses were being rebuild in a whole neighborhood."
"There are tens of thousands of empty houses all around New Orleans and along the Gulf Coast," Hawkins said. "There are people living in FEMA trailers outside their houses and volunteers are working to help them rebuild and the rest of the neighborhood is empty."
"It's a good thing that volunteers can come help," Bushey said. 
Leaving shortly before midnight on commencement day, the group will ride through the night and much of Sunday to reach Camp Hope in Violet, La. 
Operated by Habitat for Humanity as a base for its volunteers, the camp is home-away-from-home for the JMU group. "The great thing about Camp Hope is that it is all inclusive," Hawkins said. "It's a hot shower, it's a place to sleep and it's three meals a day." 
Camp Hope is also a budget helper. Each volunteer from JMU pays $200 to participate in the Alternative Break Program. The cost for each individual is kept low, thanks to fundraising that each ABP "class" pursues. "We do 'pay it forward' fundraising," Hawkins said. "Last year's group raised money for this year's trip. It's a great idea for these trips because it ensures that next year's trip will happen." This year's group has raised funds for next year by sponsoring a car wash and a campus musical concert and by requesting contributions from their hometown friends and family. 
"JMU has developed a good reputation with Camp Hope and Habitat because we have sent so many groups," Hawkins said. "Students who have gone down on their own and with service fraternities and organizations," Hawkins said. 
He is looking forward to his construction stint. "I always say that service feeds my soul. It re-energizes me to take a week away from my normal, everyday life and do something like this and work with students like we have here - students who are so gung-ho about making a difference."