You are in the main content
Student Success Center Is A Success With Students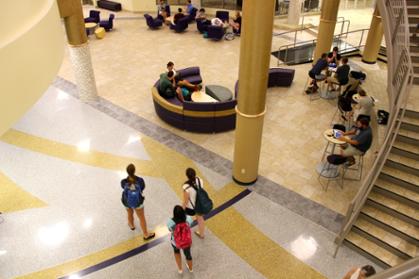 By: Kiara Mauro ('15), Student Affairs Technical Services
So, what's all the buzz about the Student Success Center? This relatively new building has proved itself to be one of the "go to" spots on campus. Students are enthusiastic about many aspects of the Student Success Center because it strives to fit their needs. Both new and returning students are impressed with the building because it is all-inclusive. It is a place where students can study, hang out with friends, eat, and have access to department services all in one easily accessible place.
The modern style of the building sets the tone for a relaxing environment to spend time with friends between classes. Naina Mangalmurti (senior) explains, "The building has great energy. Everyone is excited to be back at JMU and ready to use this space." Students' initial impressions of the design are typically that the inviting atmosphere will make for a great spot to hang out during the year.
Students have also reported that the Student Success Center is in high demand for study spaces and group meetings. The building showcases its versatility through creating an ambiance that is suitable for both studying and catching up with friends between classes. The Student Success Center encompasses the Learning Centers, the Career and Academic Planning office, and other numerous offices that support student's educational endeavors. Ibrahim Abu Ahmad (senior) believes that this building will help make him more successful. He states, "I will be more motivated to study on campus this year because I have all the resources I need. I can also grab food or coffee without leaving the building." Students envision themselves using department services more often because they are now centrally located and they love the new space for studying purposes.
The Student Success Center has also gained recognition for its dining options. Students have expressed their excitement for Dunkin Donuts over social media outlets. Additionally, the new Chophouse sets us apart from other universities through the restaurant style of dining where students can choose to dine in or take their food to go. As a campus nationally ranked for its exceptional dining services, JMU hopes to continue that trend with these options.
The Student Success Center is a multifaceted experience for JMU students, providing them with a place on campus that offers a wide range of services. It is the perfect destination for the typical college student who is always on the move, meeting up with friends to grab a coffee, or finishing homework in between classes. Rebecca Mignone (junior) states, "As president of an organization, I see this space as an opportunity for future events. JMU needed a spot on campus like this and now I can't imagine our school without it. Students [should] definitely use this space as the semester moves forward because it is so innovative and unique for our campus."