News
Live Supported: Catherine Sheng
---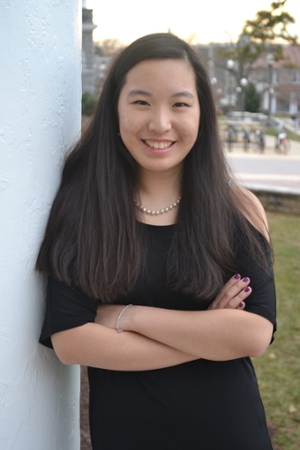 As a college student, your community and circle of friends is a huge part of your life. Having people around you who are going to help you become the best you can be is extremely important. Realizing and making sure that you need and have a solid support system is a step in the right direction.
For those of you who currently live on campus, surely you can attest to the support you receive from your Resident Advisers (RAs). We here in the Office of Residence Life (ORL) are sure to select staff members that we believe will serve as an amazing source of support to our residents as they are making the transition in becoming an independent college student away from their families and home.
That being said, we have decided to highlight Catherine Sheng, a Junior who is in her second year as an RA with ORL here at JMU.
How would your residents describe you?

"They would say that I'm helpful, outgoing, keep them up to date, have a good memory and am there for them. I'm sure to check in with them. I try to individualize each resident so they get to have their own personal connection with me."
In what ways have you been able to promote diversity amongst in your residence hall's community?

"Through programming. I to like ask my residents what they want to happen at programming. Because I like to get to know and celebrate them for you they are, I like to provide information about the clubs and organizations here at JMU that I think they would be interested in."
What's one way that you have been able to collaborate with a resident?

"I've been able to collaborate with my residents by working with the Community Activities Board (CAB), as well as through programming. It's great when people show up, because it's there that I can get new ideas directly from them. 
What is a common way that you support or help your residents?

"Talking to them for sure. I like to have one on ones once a week to check in with them to see how things are going and to provide resources. 
Have you had to ever empathize with a resident? Tell me more.

"As a student myself, I go through the same things. I too juggle classes and extracurricular activities, so I understand the struggle, and can relate to their workload." 
In what ways have you been able to help a resident reach their goal(s)?

"I've been able to provide resources and to talk things out and listen. In order to help them reach the goal, you have to listen and know the goal. It's awesome when some time has passed and they come to me and say, 'Remember that goal? I finally achieved it!"
Do you ever spend time with your residents outside of your hall? Do you share any common interests?

"Yes, I took a couple of my residents to the football game. I live on a mixed floor, so there's different interests – there are sports lovers, football players, etc. I used to be a former athlete, so talking about my past experiences and the current experiences of my residents is always a cool thing."
When you're listening to a resident explain an issue that they're having, what types of things are you listening for?

"I'm listening for red flags. If they're talking about a challenging goal, I listen for things like, 'I'm not accomplishing this,' or 'I don't how to accomplish that." You always need to ask more about the details and find out other information. I ask them to explain it more if they are being vague so that we can dig deeper." 
What's one instance where you've been able to give a resident positive feedback about something and how was it received?

"With my athlete residents, I'm sure to tell them 'good game.' It's always appreciated. For me to pay attention and actually notice each player always puts a smile on their faces. They may know they did a great job, but me congratulating them is always good for them."
What's your favorite supportive interaction with a resident?

"When I was a summer RA, it was interesting to interact with first year students. I'm used to being an upper class RA, so there are conversations and instances that are specific to first year students. One in particular that I remember is having to guide a resident with their making sure they use the washer and dryers correctly. That instance always makes me laugh J."
If you had a superpower, what would it be and why?

"As an RA, being able to relate. I consider myself to be outgoing, so it's easy for me to pick up a conversation. Getting know them is coolest thing because at the end of the year, you as an RA can see how they've grown. The resident might not have seen it, but I see it and it's really rewarding."
By ORL Staff 
Last Updated: Wednesday, July 4, 2018