News
KA On Campus
---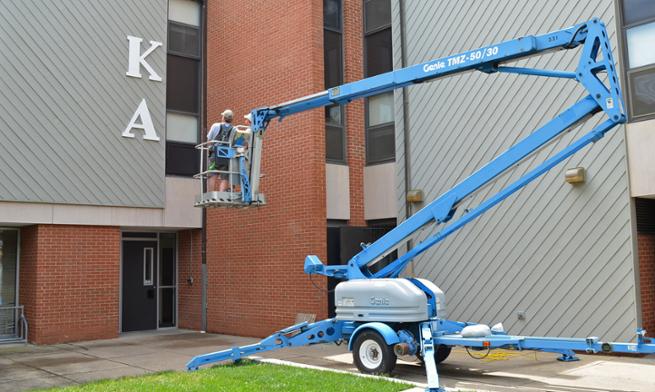 Located on the west side of Newman Lake the Treehouses, as it's currently known, originally served as JMU's Greek Row. But by the early 2000's all of the fraternities that had once called The Row home had moved off campus – but not for good.
Now, almost 15 years later, JMU's fraternities are slowly reclaiming their place on The Row, starting with the Kappa Alpha Order.
Last year when KA ran into problems negotiating the contract to their off campus house, President, Dan Cracovaner, decided to explore on campus housing as an option. 
After much deliberation he determined that the benefits of living on campus far out weighed those of living off campus. Luckily their chapter's advisor, Nick Langridge, VP of Advancement, thought so too. 
"I sat down with Nick and we went through every single pro and con, and it just made the decision so clear to me. Once I realized it I got up at one of our chapter meetings and presented my idea, and I got a standing ovation."
Now that he had won over his brothers, Dan set his sights on convincing the Office of Residence Life to allow fraternities back on campus. 
"When the fraternities decided to move off campus, we told Greek Life that when they wanted to move back into the buildings on The Row that we would welcome them back," said Joan Houff, Associate Director of Business Operations. "So when Dan reached out to us, that's exactly what we did." 
The move became official when the letters from the fraternity's old house were rehung on their new home in the Treehouses. In the few months that the fraternity has been living on campus, feedback from the brothers has been overwhelmingly positive.
"It's a very nice place to live. We just redid the basement and bought a ton of new furniture so we can all hangout there together between classes since it's so centrally located," said Dan.
The fraternity has also received an outpouring of support from the JMU community.
"We're really excited for the men of Kappa Alpha Order and fully support them as they move back to campus. One of the many positive effects of this move is the increased transparency – not just for KA, but for the entire fraternity community. By situating themselves in an on campus residence, these men will be better able to engage with faculty, staff, and students about topics that are important to the campus," said Adam Lindberg, Office of Fraternity & Sorority Life Associate Director.
Director of Residence Life, Kevin Meaney, also believes that the fraternity's presence on campus reinforces the connection between the organization and the university.
"They become more invested in the on campus community because they live here too and they have a stake in helping us maintain a healthy and safe environment," said Kevin.
Dan felt that moving on campus would be a big step in the right direction for the fraternity and hopes that KA's decision to move back on The Row will start a trend among the Greek community. 
"While we will all still function separately, I think being on campus together will help us support and collaborate with each other and maybe that will help us grow the Greek community here at JMU," Dan said.
The Office of Residence Life has already received applications from three additional fraternities to move on campus next year. 
"I think KA is setting a great example and hopefully starting a new tradition here at JMU," said Dan.
By Megan Bourne ('11)
Last Updated: Wednesday, July 4, 2018