News
ORL Staff Try Their Hand at Sustainable Farming
---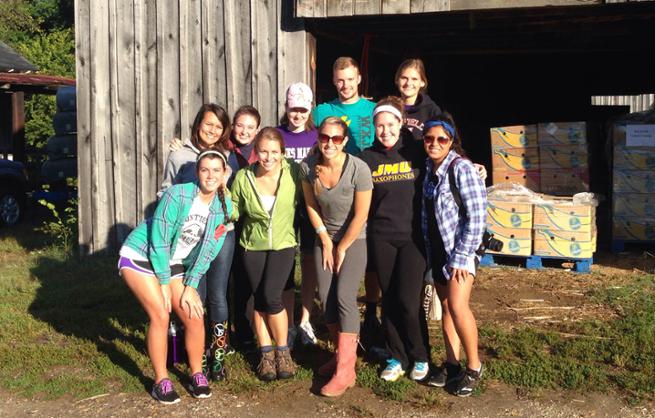 Wish you could participate in an Alternative Break but too afraid to dive into a full week of community service miles away from home? Well, JMU's new Alternative Weekend Breaks would be a perfect fit for you!
Back in October, ORL staff members Kristin Stephens, FYI Coordinator, and Carson Rader-Bell, FYI Graduate Assistant, took their leadership skills to the farm. While neither considers themselves qualified farmers they donated their time and best effort to the Chesapeake Bay Foundation's Clagett Farms in Marlboro Maryland.
Carson and Kristin aren't new to the alternative breaks, Kristin having completed 5 and Carson 8, but this trip served as a first for both of them because of its length. Clagett Farms worked with JMU's Alternative Break Program to offer an Alternative Weekend Break to students who were interested in sustainable farming. Opposed to the typical weeklong alternative break trips this trip took place over a single weekend.
Alternative Weekend Breaks generally begin on Friday late afternoon/early evening and last until Sunday afternoon. A team of approximately 10 students emerse themselves in local or nearby communities within 200 miles to do service projects. Trips are co-sponsored by Community Service-Learning (CS-L) and another JMU department, according to their website.
"I really like how they pair these trips with service learning so that a lot of the goals of the trip focus on what you can learn from your service rather than just doing volunteer work because I think there is a big difference," Carson said. 
Kristin served as the trips Learning Partner, an adult staff member to act as a type of chaperone, while Carson was the trip leader.
"I think Carson thought I would be a good fit for the trip because I am studying to be a nutritional therapist and I'm very passionate about locally grown food and locally raised meat as well as sustainably harvested/grown food," Kristin said. "Getting away from processed food, that is not good for your health, and back to natural real foods is exciting for me. Being able to go see things like an eggplant growing on a vine makes me feel more connected to the foods in a way that I hadn't before experienced before." 
The farm raises a wide variety of organic vegetables for sale to the public through their Community Supported Agriculture (CSA) program. A program in which you can participate in one of two ways. You can join the "Work Share," where workers "pay" for their share of the weeks harvest by putting in labor or by purchasing a membership that allows you to come pick up your share of the weeks harvest from mid-May to mid-November for a fee.  
"On Saturday, we got up, went to the farm and were separated into two groups. One group was assigned to harvest peppers and eggplants while the other group picked turnips," Kristin said, "After lunch we washed the turnips that half of the group had picked earlier. We helped sort which ones were nice enough looking to sell and put all of the rest in a bin to be given away for free."
For 20 years Clagett Farm has provided free and reduced-price, fresh produce to people living in poverty and near-poverty in Washington, D.C. The project, a collaboration with Capital Area Food Bank, blends local, sustainable organic agriculture with social justice.
"Prior to this trip I had never done anything related to farming. So I learned the basics of how vegetables grow and discovered that people who are below the poverty line can become a part of farms like this and get fresh food, which is a great program," Carson said. 
After a long weekend they left with sore backs and a new appreciation for sustainable farming.
"I think it's important for students to get a better understanding of where their food comes from, especially since they are college students and may think that their food just comes from D-Hall," Kristin said. "I think service learning trips in general are really great to open students' eyes up to places that they have never been before and new experiences."
A shorter weekend trip opens up service opportunities to many who cannot participate in the longer Winter or Spring Break trips. 
By Megan Martin ('11)
Last Updated: Wednesday, July 4, 2018