Graduate School
Spotlight on Alumni - John Clarke
---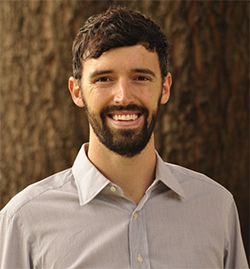 PHOTO: John Clarke John Clarke graduated from James Madison University's Clinical Mental Health Counseling program in May of 2013 and has since moved to San Francisco, California to start his career path as a therapist.
John started collecting experiences to strengthen his repertoire as a counselor while he was still in his program by working as an in-home therapist with Crossroads Counseling. His clientele ranged from children and teenagers to adults with severe mental illness. John has also had experience working with college students when he did his internship at Bridgewater College under the supervision of Randy Hook. Both of these experiences were able to broaden John's skills beyond the scope of his program and have contributed to his varying work post-graduation.
Since John moved across the country, he had to adapt to the different licensure requirements of California. This included additional coursework and starting fresh with his hours because his 900 internship hours from Virginia did not transfer. The LPC is a new license in California. Most of the practicing clinicians in the area are MFTs for LCSWs. Luckily, he was able to find work with a non-profit agency called "Seneca" which is the largest provider of health care services for foster children and at-risk youth. A particular initiative that he is involved with is known as "Wraparound". This community based program is what is known as a step-down program where a child is transitioning from residential care back to the community. This program builds support for the child and their family to acculturate them back into society. John heads the clinical team which is comprised of a Bachelor's level support counselor, an additional therapist, a social worker, and a behavioral worker in which their main goal is to build as many natural supports as possible (such as a coach, neighbor, cousin, etc.)  for the child so that when the program ends in 18 months, he or she will continue to be supported.
John's nonprofit work has called for an ecological approach because so many of his clients do not have their basic needs met. Some of his greatest interventions with clients have been when he's brought them a meal, given them a ride to a doctor's appointment, or even let a reluctant client give him a haircut to build rapport. An additional challenge to John's work is that all of his clients are from a minority background, which will inevitably lead to fundamental barriers at some point because he cannot ever know what it is like to walk in their shoes. John approaches his clients with an open curiosity of "What has your life been like?" By owning his difference it provides his clients with an opportunity to be able to tell their story from the beginning without feeling like it has already been written.
In John's experience, he has found that "clients with the highest needs end up working with therapists with the lowest levels of experience". Interns, or residents, are dependent on another person's license, so they end up "working in the trenches of mental health". Typically, the higher the level of experience of a clinician, the higher the privilege of the client.  There is a big disparity of types of issues and types of clients in San Francisco. "There are a lot of people with a lot of money, and a lot of people without a lot of money- I work with both," said John.
One of the clinicians John Clarke contacted before moving, John Montopoli, is a Cognitive Behavioral Therapist in the Bay area and owns a private practice. After John Clarke received his intern number, he upgraded from doing social media advertising and website building for John Montopoli, to joining his private practice. John will often start his day in nonprofit work in the projects, and end his day in a comfortable office with clients who can and are willing to pay out of pocket for good therapy. John has learned to "find a modality that's going to fit the population you're working with". He still relies on the fundamentals of psychodynamic and person-centered processes, this is at the heart of what he does, but he's had to layer up his experiences with more hands on and skill based approaches such as CBT and Dialectal Behavioral Therapy.
Through his experience, John has learned a lot about marketing his practice, setting fees, and scheduling his clients. Because San Francisco is such a therapy capital, John has had to refine his approach; pick a therapeutic approach and stick with it. He has received CBT training at the Beck Institute under Judy Beck and is traveling to Philadelphia to work with Aaron Beck in the near future.
John's words of wisdom? "It gets better." The path to licensure can feel like a slow crawl, but John thinks that "you can help people and do good for the world, and make money. You just have to build yourself up and ask yourself how hard you want to work". He is grateful for the foundation he had received from this program and feels that it has given him a leg up in comparison to other emerging professionals. When he starts comparing himself to more experienced professionals, he has to remind himself that "you become a therapist over a lifetime". John is open to being contacted if anyone wants to know more about his experiences. His email is: johnclarketherapy@gmail.com
Last Updated: Wednesday, July 4, 2018