News
Major flooding: Furious Flower takes a hit
---
by John McCray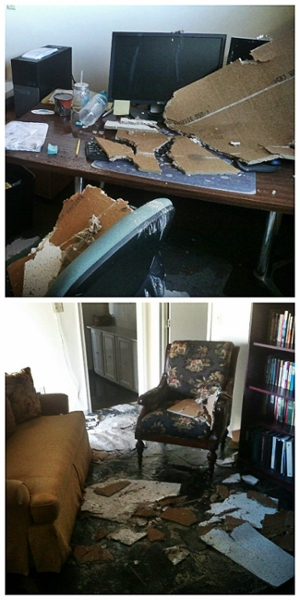 On February 6, 2017, Furious Flower staff arrived to find their offices at James Madison University's Cardinal House had been flooded over the weekend. Apparently, a small part on the toilet had broken, and that Monday, water was still shooting up the wall behind the commode, pooling in the bathroom, then seeping out to drench the entire first floor. Water had already leaked through the floor into the basement below, which housed our archives, library, conference room, and student offices.
On the main level, only the carpet was completely damaged (computers, desks, and other furniture were spared), but many of the basement holdings were ruined. Water soaking through the floor caused the basement ceiling tiles to fill, bulge, then break (see photos of my office and the library, right), splashing water onto shelves, cabinets, and the resources housed in the lower rooms, including a large quantity of educational materials developed by Furious Flower over the years. Fortunately, the bulk of photos, videos, and manuscripts from our archive (1994–2014) had been relocated recently to Special Collections in JMU's Carrier Library. A few treasures had gone to the new National Museum of African American History and Culture before it opened in the fall last year.
Still, I can attest that some of what we lost was simply irreplaceable. As Furious Flower's graduate assistant, I've spent the past six months organizing Dr. Joanne Gabbin's personal scholarly records in preparation for moving them to Special Collections to accompany the Furious Flower Poetry Center archive, and it is uncertain now how many of her papers, which were most severely affected, can be dried and salvaged. Our library housed a lifetime's worth of unique books, including signed copies or self-published books from authors who are now deceased. Dr. Gabbin's papers included personal correspondence with such poets as Gwendolyn Brooks and other literary luminaries.
We have since moved into temporary offices in Burruss Hall while Cardinal House is undergoing extensive repairs, and we're in the process of trying to recover what we can. Fortunately, we were able to rescue a number of books from our library, and we are working with JMU Facilities Management and the JMU Libraries to restore other materials. While we grieve the loss of the history and culture held in our collection, we remain steadfast in pursuing our mission of honoring and promoting Black poetry and culture and remember the words of Tupac Shakur:
Did you hear about the rose that grew
from a crack in the concrete?
Proving nature's law is wrong it
learned to walk with out having feet.
—from "The Rose That Grew From Concrete" (1999)
John McCray is a JMU graduate student pursuing an M.P.A. with a concentration in nonprofit management.
---
Moving forward, Furious Flower needs your support. You can help us rebuild by:
Sending us signed, published works by Black poets to re-establish our library. Mail to Furious Flower Poetry Center, MSC 3802, Harrisonburg, VA 22807.
Making a financial contribution of any size—every bit helps! You can make your donation online here. 
Thank you in advance for anything you can do. We appreciate you!
Published: Wednesday, July 4, 2018
Last Updated: Sunday, September 16, 2018