News
Northwestern editor Parneshia Jones on BEARDEN'S ODYSSEY
---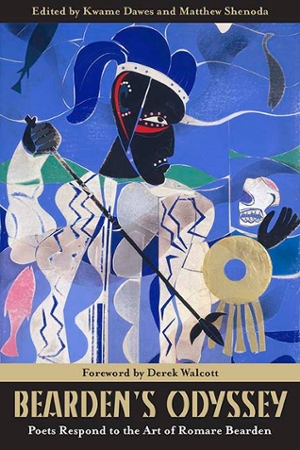 For the book Bearden's Odyssey (Northwestern University Press, 2017), Kwame Dawes and Matthew Shenoda collected original poems written in response to the powerful and influential art of painter and collagist Romare Bearden (1911-1988). Such esteemed writers as Chris Abani, Rita Dove, Lyrae Van Clief-Stefanon, Ed Roberson, Aracelis Girmay, Yusef Komunyakaa, and more contributed to the new book, acquired by Northwestern's editor Parneshia Jones. Furious Flower's Assistant Director, Lauren K. Alleyne, corresponded with Jones in anticipation of Dawes and Shenoda's reading at JMU on October 19, 2017.
What made you interested in the project? What sold it to you?
Working with Kwame Dawes and Matthew Shenoda for one! Also, I had been thinking for some time about poetry working with other forms of artistic expression: poetry and visual art, or poetry and music; there are so many possibilities. Incorporating other genres of art heightens the experience of poetry and allows others who might not read poetry to enter into our world.
Romare Bearden had a profound impact on writers. You can see this acknowledgment: just look at the covers of some of our most celebrated writers, like Toni Morrison, Angela Jackson, John Edgar Wideman, Lucille Clifton, and more. 
How did you select the poets to contribute to this anthology?
Kwame and Matthew did this work. They were clear about who they wanted to contribute to this anthology before it was presented to me. I had discussions with both editors about the reasons for certain contributors and their connections to Bearden. Many of the poems included in the anthology are original pieces. Kwame guided many of the poets with Bearden's visual work from the Odyssey series. The quality was never a question. We just had to make sure the flow of the anthology worked with the images included.
What stands out to you about it now that it's finished?
It's a keepsake. It's a celebration of Romare Bearden— a celebration of black arts. This anthology is history and contemporary. It fuses both poetry and visual art and gives the poems included a different medium. The poetry is exceptional. It's beautifully edited, and designed and produced by our fabulous editorial and production team. This is a collection that people will study many years from now. I'm really proud of that.
Do you want to say anything about Walcott, who introduced it?
It was important to have Derek Walcott's voice as part of the collection. I knew that meant a great deal to Kwame, and I understood more after I read Walcott's foreword. There is a personal reflection from Walcott that serves as a backdrop for the contributors and their poems. Walcott speaks a certain language that enforces the importance of Bearden but also serves as the most grand introduction to the poets features in the anthology. Mr. Walcott recently crossed over. We know how important he was in the literary world, and I'm grateful that he contributed his artistic expression to this anthology.  
What are your goals as an editor at Northwestern?
To publish the most profound, thought-provoking voices. Voices that speak to our humanity and, maybe, allow us to be brave in these times. There is so much disconnect even with all our connections to social media and the idea of being "global." My goal is to build a community of the most profound poets. As an editor, I am drawn to poetry that allows us to take our masks off—to be the flawed people we are. Poetry, at least the poetry I am interested in, has a way of explaining us and reminding us of our humanity. I also have the goal of building community with the poets I work with. It's not just about publishing their work. I want to connect them to each other because it builds an incredible community that the poets have to hold onto. It makes our publishing list stronger. It builds an infrastructure where poetry is important.
What is the relationship between your own writing and being an editor?
Love/hate, I suppose, lol. I think it took time for me to carve out spaces for the writer and the editor. It can be a challenge to make time for my own writing, but I have learned to expand my definition of being a writer. Yes, my own work is important, but supporting the work of other writers feels like a requirement for being a writer. I have also learned to be forgiving of myself for not being able to write everyday, but I also have learned (and am still learning) that I have to be adamant about making time to be the writer. It's important.
Anything else?
Yes, if you don't mind: a reading list. I want to share some of my favorite works of poetry swirling in my head right now.
Bearden's Odyssey: Poets Respond to the Art of Romare Bearden (of course!)
Hemisphere: Poems by Ellen Hagan
Map to the Stars: Poems by Adrian Matejka
Scrambled Eggs and Whiskey: Poems, 1991-1995 by  Hayden Carruth
Calling a Wolf a Wolf: Poems by Kaveh Akbar (OMG, reading this now)
Head Off & Split: Poems by Nikky Finney
Life on Mars: Poems by Tracy K. Smith
A Grace Paley Reader: Stories, Essays, Poetry
Last Updated: Wednesday, July 4, 2018