News
Furious Flower Poetry Center calls for papers
---
The Furious Flower Poetry Center hosts its national conference, "Seeding the Future of African American Poetry," at JMU next fall, September 24–27, 2014. Presenting the best established and emerging black poets to a large and diverse audience, it will feature five poetry readings with six poets each, a lifetime achievement award banquet, and two concerts featuring collaborations between poets and musicians.
.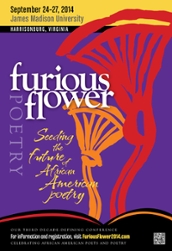 At the heart of the conference are the scholarly and critical presentations, and the poetry center has solicited proposals for papers and panels on African American and black diasporic poetry and criticism. Scholars are invited to submit a proposal of no more than 300 words by February 1, 2014.
The nation's only center dedicated to African American poetry, Furious Flower has implemented more than 50 visionary programs since its founding by JMU's professor of English, Dr. Joanne Gabbin, who spearheaded the first Furious Flower conference 20 years ago. These events include tributes, seminars, poetry camps, and performances. Previous Furious Flower conferences (the historic first gathering in 1994 and its successful encore in 2004) packed auditoriums with some 1,300 people interested in African American poets and poetry. 
The upcoming 2014 conference will explore the significance and development of black poetic expression over the last century, assess the current conversations and controversies in the field, suggest new avenues of inquiry, and examine the impact of African American poetry on poets and scholars around the world, with an emphasis on emerging voices.
Asking "what's next" for black poetic expression, major conference themes include
The Emerging Writer: How MFA programs, poetry workshops, and literary collectives are making way for emerging voices
The Changing Same: What the changing yet ever-prevalent influence of music and the oral tradition suggests for the future development of black poetry
Honoring the Poetic Voice: How the recognition of poetic genius has changed over the last 50 years
Queer Poetics: The ways in which the voices of black writers challenge cultural mythologies and stereotypes of sexuality and gender
The Black Avant-Garde: How poets have made homes for themselves under the banners of "experimental" writing and of "black" writing while confronting questions about authenticity and allegiance
Hard-won Freedoms: How the gains of the Black Arts Movement created spaces for aesthetic diversity
Gendered Readings: The ways in which the contested terrain of representations of black bodies is shaped by trauma and memory
Diasporic Poetry: How black poetry is crossing, expanding, and challenging borders
Like the earlier gatherings, this third decade-defining conference will bring together a range of backgrounds, generations, and creative outlooks while launching new scholarship, critical approaches, and performance strategies. Registration for the conference opens January 2014. For more information, please visit furiousflower2014.com.
Last Updated: Wednesday, July 4, 2018