Summer and Teaching Grants 2016
---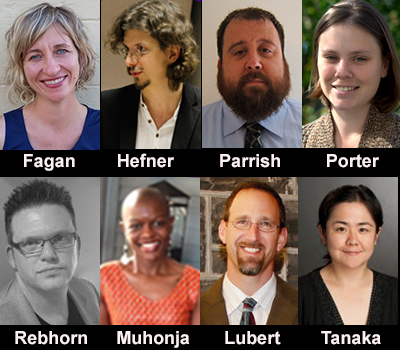 Summer grant and educational leave awards in the College of Arts and Letters this year ran the gamut from pulp to posthumous publishing and from police shootings to population studies.
Alison Fagan, English, will use her summer grant to examine the ethics and political dimensions of posthumous publishing, focusing on Ralph Ellison's "Juneteenth" or "Three Days Before the Shooting," two versions of his second novel. The case study of the novel will pay special attention to questions of authorial ownership and posthumous harm, with particular regard to race.
Brooks Hefner, English, will be one of the first to conduct research at the University of South Carolina's collection of Dashiell Hammett materials, the largest single trove of Hammett material. The goal of his summer grant research is a book-length study of pulp authorship, particularly commercialization and collaboration in literature paid for by the word. Hefner's proposal said he seeks to come to terms with the uneasy relationship between art and commerce.
Alex Parrish's summer grant research centers on adaptive rhetoric, an interdisciplinary method of inquiry into cultural and biological factors that inform the persuasive efforts of human and nonhuman animals. Parrish, Writing, Rhetoric and Technical Communication, argues in his first book that scholars should approach human behavior from a biocultural point of view. His summer grant will support the completion of the final chapters of his second book, which is currently under review with the University of Chicago Press.
Lisa Porter, Sociology and Anthropology, will use her summer grant to study the phenomenon of U.S. expatriates relocating to Costa Rica, in search of educational alternatives to U.S. schooling for their children, specifically to the La Paz Community School in Guanacaste. The research looks at the discontent that led them to leave and the community-based model at La Paz that attracted them.
Matthew Rebhorn, English, will use his summer grant to study the ways antebellum writers imagined the animate body, that is, a body that seems to have a mind of its own. These artists changed behaviors and conceptions through the "new kind of subjectivity for figures often linked to their bodies, such as chattel slaves, working-class laborers, and women."
Besi Muhonja, English, will conduct educational leave research into the post-independence women's movement in East Africa. She will interview the "historical actors and human libraries" of the movement for a book project currently under review by the Ohio University Press.
Peggy Plass, Justice Studies, will seek to gather data on police shootings in the U.S., 2007-2014. Little data is currently available on a national level, and Plass plans to use the data she gathers in her educational leave research to look for patterns and characteristics of fatal police shootings during the period.
Howard Lubert's educational leave research focuses on James Madison's different and seemingly inconsistent positions on various constitutional issues. Lubert, Political Science, argues that Madison was governed by a coherent and unwavering set of foundational commitments, and that his theory of implied powers is more nuanced and consistent than scholars have believed.
Kimiko Tanaka's educational leave research looks at the twin challenges of rural depopulation and aging, particularly in the Japanese town of Kawanehoncho. Its population has dropped by half in 45 years and 41 percent of the people are 65 and over, which has become an impetus for activating local elderly support programs and facilities. Tanaka, Sociology and Anthropology, is studying how social integration is working to protect the elderly in this rural town.
The College of Arts and Letters offers research and teaching grants to assist faculty members in activities that contribute to the development of scholarly or creative projects, or to help faculty members enhance their teaching in ways that cannot be undertaken as part of their regular responsibilities. A ten-member committee makes the annual awards. 
Published: Friday, July 1, 2016
Last Updated: Wednesday, July 4, 2018