You are in the main content
4-VA Fosters Collaboration Among Four Distinguished Universities
With 4-VA, students with an associate's degree can get a bachelor's degree from one of four distinguished universities in Virginia including George Mason, James Madison, UVA and Virginia Tech. The degree-completion initiative is part of a larger consortium designed to foster collaboration and meet needs identified by the Governor's Higher Education Commission and his Jobs Commission.
Four distinguished Virginia universities collaborate on higher education goals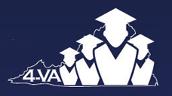 Each 4-VA university reallocated physical facilities and technical staff to work with Cisco to implement two TelePresence rooms (a total of eight across the four universities) on each campus. This has enabled the universities' presidents, provosts, vice presidents of information technology, and various research and instructional faculty to meet frequently in a collaborative virtual environment in order to evaluate proposals and select those best suited to facilitate 4-VA making progress on the goals of the Governor's commissions, particularly the "Top Jobs" initiative.
4-VA will utilize emerging technologies to increase access, reduce time to graduation and reduce costs while maintaining and enhancing quality and access. Instructional talent across the four institutions will be leveraged in the delivery of programs in foreign languages, science, technology, engineering and mathematics to create meaningful changes in the delivery of education and further prepare students for jobs in the global economy.
Learn more about the initiatives
4-VA's other priority projects in Fiscal Year 2012 are:
To design a distance education degree completion program in Technology Innovation and Entrepreneurship aimed at community college graduates, particularly those from rural Virginia, who have been unable to continue their education at a four-year institution;
To identify STEM courses that have high drop-out rates and then recruit faculty from the 4-VA universities for a summer course redesign project focused on improving student success in those courses;
To identify topic areas where one university has specific research expertise needed by the other universities in order to increase research competitiveness by initiating projects that share this expertise across universities;
To enable the sharing of courses across universities when one university has the faculty resource to teach a course strategic to Virginia's economic future but another university does not; and
Other items
Development of interoperability architecture
Capability to video conference between Cisco TelePresence and other standard video conferencing technologies
Tighter integration with Microsoft Exchange
Localized TelePresence video conferencing bridge capabilities