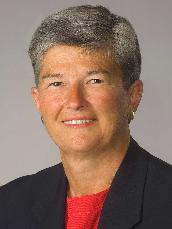 Dr. Patricia I. Wright ('75)
Chief of Virginia's public schools
JMU's program of teacher preparation has been widely recognized as Virginia's best, producing more teachers each year than any other university in the commonwealth, and, more importantly, producing highly qualified teachers. It's not surprising that one of Madison's own, Patricia Wright, is Virginia's twenty-third superintendent of public instruction. She embarked on her career in education as a high school math teacher and went on to serve for two decades in the Virginia Department of Education. She was instrumental in creating the state's Standards of Learning accountability system. "There's not much in this agency I have not done," Wright says. In appointing Dr. Wright as chief of the commonwealth's public schools, Gov. Timothy M. Kaine noted her longstanding commitment to raising the achievement of all students and preparing them for success in life beyond school. This world changer sees education as the key to preparing students for citizenship in a global economy.
"Success in the 21st century economy will belong to those who can compete with peers all over the world. Our challenge as educators is to prepare young people for this new reality while instilling the shared values that distinguish us as Americans."