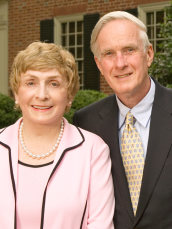 Dick and Shirley Hanson ('56)
Roberts JMU benefactors
The Madison Experience has been credited with creating change in a number of different ways — Dick Roberts credits the experience for a single, life-changing moment that brought a lifetime of happiness. In June 1954, as Roberts, a young midshipman from the U.S. Naval Academy, strolled down the Virginia Beach boardwalk, he spied the most beautiful woman he'd ever seen, introduced himself — and the rest, as they say, is history. If Shirley Hanson ('56) had not been attending Madison College, Dick believes the two would never have met. She had considered transferring to an Ohio school after her freshman year, he explains; and if she had done so, she never would have been vacationing in Virginia Beach that day with her Tri Sigma sisters. "Something kept her from transferring," Dick says. "It had to be her experience at Madison, that first year before we'd met." Dick proposed to Shirley after both graduated: he from Annapolis and she from Madison College with a bachelor's degree in secondary education. During their life together, the couple has shared such passions as antiques, travel and active community service. Dick's commitment to Shirley and her interests has made JMU a beneficiary of their philanthropy. One of the top gifts in JMU history named the Shirley Hanson Roberts Center for Music Performance, part of the new Performing Arts Center at JMU. The Roberts see their gift as a special way to enhance the Madison Experience, not only for JMU students, but also for the community, which will benefit from the cultural initiative.
It took some convincing to talk the modest, unassuming Shirley into the idea of having a facility named for her: "Students today, tomorrow, 20 years from now, will never know who Shirley Hanson was," Dick says he finally told her. "But when they walk into that [center,] they will realize that someone named Shirley Hanson Roberts, Class of 1956, thought enough of her experience at JMU to be sure that they have a chance to have, in this particular venue, a world-class experience."