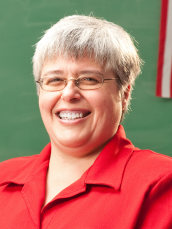 Laurie Tusing Phillips ('85)
Special Education Teacher
During her 22 years of teaching, Laurie has dedicated her career to helping students with special needs. She has become an important member of the educational community at Stonewall Jackson High School in Mount Jackson, Va. — her "Transition Day" program, which helps rising ninth graders enrolled in special education spend a day getting familiar with the school's layout and practice changing classes, is an annual, and enjoyable, tradition. Laurie was named 2007 Shenandoah County Teacher of the Year, an accomplishment that recognizes her significant work with special education students. "It's so awesome, I can't believe it," Phillips says about being honored by peers. "I know the caliber of teachers with whom I work, and to know that they hold me in such high esteem leaves me speechless!" She attributes her passion for teaching both to her years in JMU's special education department and to her high school involvement in educating elementary school children. One of the most rewarding parts of teaching for Laurie is her relationships with students. "I've found that if I build a rapport with my students and honestly listen … we can find common ground," she says.
"Many [of my students] call me after graduation to share their successes, as well as disappointments. I've had tearful moments where the students have returned to say "thank you" for the time spent in my class and the lessons they learned there."