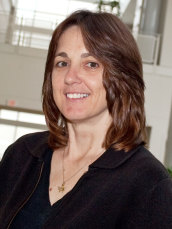 Dee Nilsen ('00)
JMU staff member and relief worker
It's second nature for Dee Nilsen to be the change. This integrated science and technology graduate and computing support specialist has a busy work schedule, and she doesn't slow her pace outside of the office. Working through Lutheran Disaster Relief, Dee organized a volunteer group to assist Hurricane Katrina survivors in Slidell, La., and New Orleans. Knowing many children in those areas had lost everything, Dee helped plan a Christmas party for 100 children. She set a goal to provide one Christmas toy for each child. Sending word to her friends and JMU colleagues, she gathered donations and surpassed her goal — over 100 children received three gifts each and leftover toys were donated to a devastated daycare center and a public school. Next Dee spearheaded an Adopt-a-Family program that connects Virginians directly with Louisiana families in need, allowing people to contribute to hurricane relief efforts and build relationships at the same time. Dee's efforts continue. She organized a spring break trip for some JMU students to help more folks in the Slidell and New Orleans communities. Don't expect Dee to stop anytime soon — those who know her say she'll keep on working until there is nothing else to be done.
"What's important to me is to get involved with the people in the devastated communities. When I'm asked to describe our work, I always say we're just people helping people."