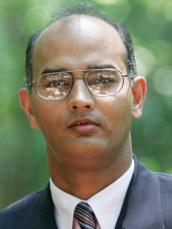 Dr. Sushil Mittal Founder, Advocate for nonviolence
Sushil Mittal found a unique way to bring change to the Madison campus as founding director of the Mahatma Gandhi Center for Global Nonviolence. The center contributes to the creative life of Madison and encourages new thinking across the disciplines, providing a quiet place for individual research into the ways of peace. Trained in cultural anthropology, Mittal taught Hinduism and Gandhian thought in JMU's Department of Philosophy and Religion, and he brought inspiration to the Madison community. Thanks to Mittal, in September 2007, Archbishop Emeritus Desmond Tutu visited the JMU campus and shared his message on the power of goodness. On the International Day of Peace, Sept. 21, the center presented its first Mahatma Gandhi Global Nonviolence Award to Tutu; and Mittal and guests later planted a tree in his honor.
"We can all be great because we can all serve."