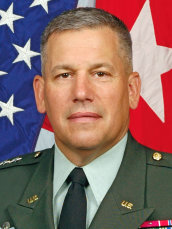 Maj. Gen. Raymond Mason ('78)
JMU ROTC pioneer
In 1974, Ray came to JMU ready to continue his family's military tradition — his father was a 30-year Army veteran who served in World War II and the Vietnam War — but at the time, the university did not have a Reserve Officer Training Corps program. Ray was instrumental in the creation of JMU's first ROTC chapter in 1976; and in 1978, he graduated as a second lieutenant. "Since my commissioning, hundreds of great Americans have received their military commission through James Madison University and are serving our nation on freedom's frontier around the world," he says. Today, the man who helped begin ROTC at JMU is a major general and leads a force of more than 55,000 military, government civilians and contract workers to provide fuel, food and other support services to more than 200,000 deployed forces. This consummate soldier is, by his admission, first and foremost a devoted family man. He lauds his father for setting an example of discipline and patriotism, and praises his mother, a German refugee, for instilling in him a sense of determination and humor in the face of adversity. And, Ray says, "My wife, Patti [K. Harris ('78)], and children, Nick and Sarah, have continued to be the rock and light of my life keeping me focused on serving a purpose much greater than myself … family and country!"
"I feel extremely fortunate that I had the privilege of attending JMU. The academically challenging and socially active campus atmosphere allowed for creative and innovative open thought, which gave me the opportunity to quickly learn the critical leadership skills that would prepare me for the high stakes, rapid-paced, ever-changing mission requirements of a U.S. Army career."