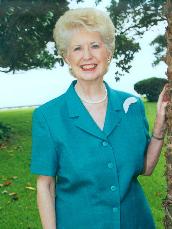 Gladys Kemp Lisanby ('49)
Arts supporter
Change is not always easy. Gladys and her family know that all too well — Hurricane Katrina changed their lives forever. Her family's 100-year-old Pascagoula, Miss., home, which had withstood numerous coastal storms, was no match for Katrina. But then, Katrina was no match for the indomitable spirit of Gladys and other Gulf Coast inhabitants. When women artists in the region made the bold decision to turn heartache into artistry, it was a move wholeheartedly endorsed by Gladys, who is founding president of the Mississippi State Committee of the National Museum of Women in the Arts. The resulting book, Katrina: Mississippi Women Remember, bears witness to one of America's greatest natural disasters and the spirit of the survivors. Gladys has always nurtured the belief that art is essential to life. As she wrote in the book's foreword, "There is nothing so strong and powerful that it cannot be made better through the eye of the artist." In addition to her roles as a Navy wife, mother, community leader and successful businesswoman, Gladys has worked tirelessly to support and encourage women in the arts. She participated in the development of the National Museum of Women in the Arts, which is the only museum dedicated to women in the visual and performing arts. In 2007, the NMWA named Gladys a "Mississippi Treasure" in recognition of her contributions and dedication to the arts. And while she and her family, like so many other Gulf Coast residents, continue the hard work of recovery, Gladys is determined to adorn the face of change with beauty.
"The best and truest test of the human spirit [is to] absorb the hardest blows of life and respond in beauty."