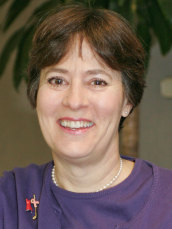 Susan Kruck ('94)
('95M) Associate professor
She's a Madison Scholar and the 2007 Distinguished Faculty Award winner. Yet, when asked to name her biggest accomplishment, Susan points to her students. "I am most proud of working with students inside and outside the classroom and then receiving an e-mail or note a year or two later, expressing appreciation from them for the time or insight that I was able to provide." Her contributions of time and energy to her students have earned this Madison graduate a reputation as an inspirational teacher and mentor. It's exactly what she hoped for: "I always wanted to be a trainer; and when I came to JMU, teaching just seemed like a natural fit as the university is student-focused." Her work with students goes far beyond the classroom. As the Sign Language Club adviser, she helps students raise awareness of deaf culture. She mentors the Knitwits Club, whose members knit clothing for premature babies, the armed forces and cancer patients. She is also involved with JMU's Women in Technology organization, which supports women who are interested in technology or pursuing technology-related careers. And she doesn't stop there. For the past two summers, Susan has been the chairwoman of a fundraising golf tournament for breast cancer that benefits local community members; and she hopes to raise money for women and heart disease next year. While students, fellow professors and neighbors laud her devoted efforts in behalf of others, Susan modestly says, "I'm not sure why people would call me a world changer; I just care."
"The message I want to send to my students is that they use their talents and abilities to help make a difference — in their life, in my life and in the lives of others around them."