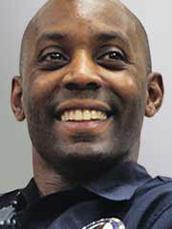 Derwin Henderson ('83)
LAPD Officer and Kids' Hero
Convinced that every kid deserves a chance, Derwin Henderson went beyond his role as a Los Angeles police officer and began a youth-league football team to channel aimless, vulnerable kids away from crime and drugs. Derwin's generosity is enormous. He's been known to pay for kids' league fees and uniforms out of his own pocket, and he took money from his savings account to provide team transportation. But he's gone even further, welcoming kids in need into his home. Derwin, or "Coach D" to his kids, has been a mentor, role model, guardian and surrogate father. The kids call him their hero — after all, he's done more than change lives; he's saved them.
"I saw kids … crying out for help. I saw their lives, their families, their neighborhoods. It changed my views about young people. … Didn't every kid deserve [a] chance? I just wanted [them] to have a chance."