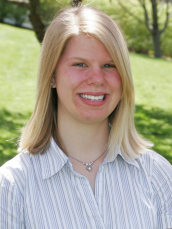 Jennifer Griffith ('09)
Marketing major and volunteer
In 2007, Jennifer organized 45 James Madison University students in a caravan headed to New Orleans. There the group worked with Habitat for Humanity in the Musicians' Village building homes for New Orleans' musicians who lost their dwellings to Katrina. The students also helped at the New Orleans Mission homeless shelter. In fact, in the past year, this dedicated volunteer has made three trips to New Orleans and worked on numerous building projects. Jennifer says she was drawn to Habitat for Humanity because of her father's career as a carpenter. He taught her rudimentary skills in roofing and basic building mechanics, while her involvement in her church inspired her to seek out mission trips. Recently, she expanded her volunteer efforts by working at a camp for abused children. Jennifer believes she has found the perfect way to combine her faith with the group leadership skills she has honed at Madison to change the world for the better.
"Find what you are passionate about and then look for ways that you can serve."