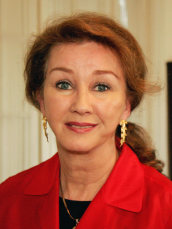 Karen Evans Honors Program instructor
Concerned with the scarcity of course offerings on American Indian studies, JMU Honors Program faculty member Karen Evans, who is of Cherokee lineage, decided to take action. After gathering information for two years, Karen developed a course plan for an American Indian studies class that would focus primarily on contemporary issues. The honors seminar, offered in spring 2006, was a resounding success with students, motivating several to work with Native American children on reservations. It wasn't the first time that Karen brought change to Madison's campus. Since she began teaching at JMU in 1983, she has created classes on women's studies, multicultural awareness and American poetry. As an academic adviser, Karen developed the academic student success program to assist students facing academic difficulties; and since retiring as assistant director of the Honors Program, she has continued to teach as an adjunct instructor. Her greatest accomplishment though, is not the programs that she has created or the awards she has won, but the difference she makes in the lives of her students, inspiring them to reach beyond what they think they can achieve so that they, too, will change the world.
"My students inspire me — and uplift me. I count myself fortunate every day to be doing the work I love."