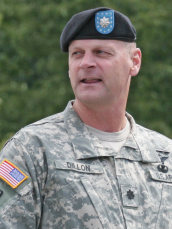 Lt. Col. Mike Dillon ('81)
Football coach, mentor
For some, the game of football is a metaphor for life. Mike subscribes to this philosophy, and is also trying to pass the game's positive values to youth all over the world. Stationed for six years at the Supreme Headquarters Allied Powers Europe in Belgium, Mike donated much of his free time to the SHAPE American High School serving as an assistant coach and defensive coordinator. Recently retired from the military, he continues to pass on both the traditions of the military and football to students at Massanutten Military Academy in Woodstock, Va. Mike admits, "I've probably grown as much if not more as an individual through coaching/teaching as have the young men and women I've taught in and out of the classroom." Mike and his wife, Deirdre ('80), also a JMU graduate, have passed the service tradition on to their daughter, Halley ('08), a cadet in JMU's ROTC program and a nursing student.
"The great thing about teaching and coaching sports, especially team sports, is that every decision, action or result directly relates to what takes place in life. The kids feel high points, low points, success, disappointment, but the most important is the feeling of seeing something through from start to finish resulting in an incredible feeling of accomplishment regardless of the outcome."