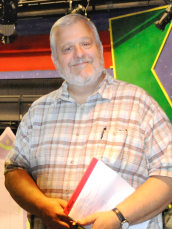 William J. Buck Director, School of Theatre and Dance
For a dozen summers, Bill Buck, founder of the JMU Children's Playshop, has raised the curtain on the magical world of the stage for thousands of pint-sized, first-time theatregoers. Dedicated to creating high-quality productions, the Children's Playshop brings the heroes and villains of fairy tales to life for its young audiences. And what better way to train a student actor to hold an audience's attention than to test their craft before a room packed with wriggling, giggling 5-year-olds? The rewards are a new generation introduced to the imagination, artistry and joy of the theatre, where even their parents can be kids again.
"Children and their parents have always felt comfortable coming to our shows because we choose shows that have a positive message and that show the empowerment of children. Bullies, witches and monsters are always shown to be the ridiculous creatures that they are."