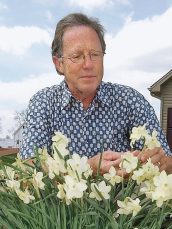 Dr. Norlyn Bodkin Founding director, Edith J. Carrier Arboretum
Norlyn Bodkin's career at Madison has been a labor of love — on two fronts. A dedicated professor of biology, he confesses that in four decades he never tired of teaching. Throughout those years, he maintained, shared and imparted his passion for biology as the most fundamental science, one that holds the key to mankind's very survival. His enthusiasm for the subject inspired many in his classroom, who, with his mentoring and support, have gone on to successful careers and are now inspiring students of their own. To Norlyn, it's a natural process: "I see education as a continuum, teacher to student, and so on, ad infinitum," he says. His own education in botanical science provided him with another avenue for his devotion. In 1977, he proposed that JMU establish an arboretum, a dream that blossomed into beautiful fruition. In the years since its establishment in 1985, his association with this beloved campus feature, first as director and then educational coordinator, has been integral to its success as an outdoor biology laboratory and recreational facility. In the classroom and on the arboretum grounds, Norlyn's inquisitive mind and nurturing spirit have made a lasting mark on Madison.
"Being able to influence a student's thinking and get them on the path to a successful life is an accomplishment; and from what you hear back from your students, it does happen."