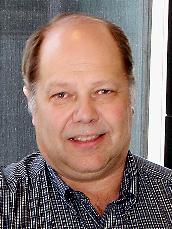 John Barrick ('76)
Race Vehicle Engineering, General Motors
John Barrick took a youthful penchant for speed and combined it with an education in the laws of motion, literally creating a change in airflow. This physics major continued kart racing during his Madison years and later during his graduate engineering program at Rensselaer, ultimately winning two national championships. During his career at GM, meanwhile, he redesigned the Cadillac CTS chassis, which surpassed sales expectations by almost 50 percent, and was the chief engineer of the Cadillac STS-V Sport Sedan. Today he is GM's senior manager of race vehicle engineering. This 2005 Physics Alumnus of the Year returned to JMU in October to give the Physics Homecoming Lecture and share his knowledge, advice and success with a new generation of physics majors.
"Being given the chance to develop the Cadillac STS-V is a dream come true. … I am indebted to JMU for the outstanding foundation it laid for my engineering studies."