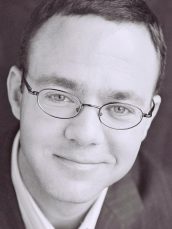 Brian Balmages ('98)
Composer, conductor, performer, producer
Early on, Brian knew that he wanted to study music -- both his parents were musicians and teachers -- he just wasn't sure what part of the music industry he should venture into. "I initially went to JMU because of the reputation of the music industry program and the trumpet teacher. Both offered a level of education that I did not feel I could get elsewhere in a similar environment." There is no doubt that he's made the best of his education. An active composer, conductor, producer and performer, Brian has performed worldwide, winning praise for his fresh compositions. His stellar credentials and talent led to his commission to compose Madison's official Centennial music, Portraits in Bluestone. Brian says that composing music has a special appeal: "I have always been better at communicating through music rather than words — composition seemed a logical step once I realized my relationship to music and its effect on me." And his music has had a profound effect on others. Brian often receives e-mails from students who decided to be music majors after performing his music and from parents who realized the importance of the arts after seeing him work with a group. "It makes me feel like I am helping to keep the arts alive and that some younger students will absorb my passion for music and eventually share that with others," he says. For Brian, it's all about touching the lives of others and being the change, not with words, but with notes and melodies of great music.
"In my case, I feel that I am able to touch a lot of people directly when I am a guest conductor, and indirectly, when a group plays a composition of mine. Either way, I feel like I have the opportunity to inspire young minds to achieve great things, hopefully much greater than what I will achieve in my lifetime."