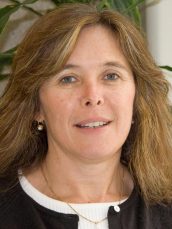 Margaret Bagnardi ISAT professor of nursing
Little more than a year after coming to JMU, nursing professor Margaret Bagnardi is changing patient care in Harrisonburg. In collaboration with Rockingham Memorial Hospital, Margaret empowers nurses to conduct research, implement evidence-based care and evaluate the results — "linking academia and the bedside," she says. Through professional seminars, she is building a dynamic network of information that flows from academia to health care professionals, effectively disseminating and exchanging state-of-the-art information. JMU's nursing students are involved too; they provide promising health care information from professional literature to RMH nurses, who in turn evaluate and use it to improve patient care. "It's creating an excitement. It's not just coming to work and doing a job … patients will get the most current research-based care they can get." Margaret who holds degrees in nursing and education — and who works as a nurse at RMH herself — knows this meshing of research and patient care is critical for patients. When asked who inspired her to pursue nursing, Margaret's answer is instantaneous: "Mom. She was a nurse. She taught us to see people as they are, and see the good in everyone.
"Health care is changing at such an exponential rate. Keeping up with the current research is imperative for safe, effective nursing care."