You are in the main content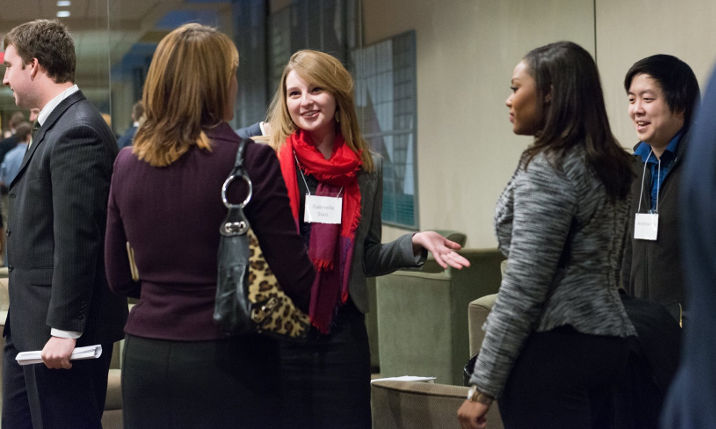 Political Science Alumni
Endowment Honoring Retired Political Science Professors
The JMU Political Science Department Endowment Honoring Retired Professors will provide funds to support the work of faculty in the Department of Political Science in a project-oriented manner. These projects will enhance the teaching and research of departmental faculty working with undergraduate and graduate students in political science, public policy and administration, and international affairs. This endowment will finance activities central to the development of new courses, innovative teaching strategies in existing courses, and research on local, state, national, and international issues. Visit our web page honoring the Department of Political Science emeritus faculty.
Alumni Engagement
Working with JMU Politicos and its two subgroups, the department sponsors a variety of events that foster engagement between alumni and students. For example, two annual career workshops – one on campus, the other in D.C. – puts students in direct contact with alumni working in fields related to our majors: policymaking, campaign politics, law, the non-profit sector, international NGO's, lobbying, intelligence, government contracting, as well as for state, local and federal agencies. Dinner and lunch events are designed to enable networking among alumni and students. Under the leadership of a new alumni board, the department now hosts an annual Alumni Day to coincide with homecoming weekend, as well as fundraising events to honor emeritus faculty. Alumni also assist the Washington Semester program by serving as guest speakers and career mentors.
If you are interested in getting involved in either the DC, Richmond, or INTA group, please e-mail Dr. David Jones at jones3da@jmu.edu, join us on LinkedIn, or like us on Facebook. (The department also now hosts two sub-groups within JMU Politicos: INTA Politicos for former International Affairs majors and Richmond Politicos for alumni working the commonwealth capital area.)
In addition, please take a few minutes to complete this brief survey and update your contact information? Thanks! Filling out the survey will help us to gather information on the achievements and interests of our former students. It will also help us keep lines of communication open between the department and its alumni. If, rather than filling out a survey, you would prefer to send us an e-mail message update, please send it to posc@jmu.edu.
Image: Alumni of the Political Science Department at a networking event in Richmond. Photo by David Jones.
The Spring 2016 edition of Political Currents, the JMU Political Science Alumni magazine is out - click on the image.
Click here for the 2013 edition
Click here for the 2014 edition
Click here for the 2015 edition