You are in the main content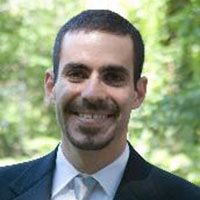 Dr. Alan Levinovitz
Office: Cleveland 312
Phone: (540) 568-3509
Fax: (540) 568-8072
Website: www.top-philosopher.com
Education:
B.A. Stanford University
M.A. and Ph.D. University of Chicago Divinity School
Research:
Dr. Levinovitz focuses primarily on the relationship between religion and literature, with particular attention to classical Chinese thought. He is currently working on the role of play in the Daoist Zhuangzi, as well as the history and significance of letter-case in translation (the dao or the Dao?). Other interests include the tension between paratext (introductions, footnotes, etc.) and primary text, the importance of genre in ethical discourse, and the proper way to translate jokes.
Selected Publications:
"The Zhuangzi and You: Defining an Ideal Without Contradiction," forthcoming, Dao: A Journal of Comparative Philosophy 10.2 (2012).
"Moby Dick's Hidden Philosopher: A Second Look at Stubb," Philosophy and Literature 32.2 (2008).
"When Choice Doesn't Matter: Rawls, Religion, and the Faith School Debate," The Journal of Philosophy of Education 38.2 (2004).