News
The Best Way to Spread Christmas Cheer
---
By Taylor Hudson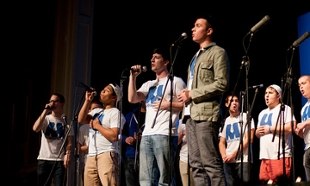 Members of a cappella group The Madison Project perform on stage at Wilson Hall for Operation Santa Claus.  Photo by Caroline Prendergast for JMU Technology and Design.
Buddy the Elf trekked through the seven levels of the Candy Cane forest, through the sea of swirly twirly gumdrops, and walked through the Duke Dog tunnel just to host this year's Operation Santa Claus. He had two missions: raise enough Christmas spirit on the "Claus-o-meter" to power Santa's sleigh, and raise enough money to support the foster children of Harrisonburg-Rockingham Social Services this Christmas.
Of course Buddy, who also goes by the name Avery Hymel, had a little help. Student Ambassadors organizes Operation Santa Clause every year. This year the committee heads, Rachel Ostroff, Mike Ferrante, and 15 other committee members spent all semester planning a Christmas-filled evening.
The audience was immersed into the Christmas spirit as soon as they walked in the doors. Wilson Hall was definitely decked. The stage was covered in Christmas trees and sparkling lights. On the walls hung feet of garland and dozens of snowflakes. Student Ambassadors greeted guests dressed in festive costumes and flashy Christmas sweaters.
The evening was filled with appearances by some of JMU's best performers. Starting with Madison Projects smooth cover of "Colder Weather" by Zac Brown Band and ending with the theatrical dance talents of Exit 247 B-Flat Project.
Lauren Rollins, a senior nursing major, attended Operation Santa Claus as her last chance to enjoy this Christmas tradition before she graduates. "I come here to get in the Christmas spirit," says Rollins. "It's a lot of fun, and this year, I loved Note-oriety's cover of 'Can't Help Falling In Love' by Elvis. It was absolutely beautiful."
Some of the other crowd favorites were the angsty cover by Bluestones of "Crush Crush Crush" by Paramore, the high-energy hip-hop routine of the Mozaic Dance team, and 90's hit song mash-up by the Overtones.
Although a lot of the acts focused on contemporary songs, many of them delivered Christmas inspired performances as well. Brandi Suarez, a senior Dietetics major, says "Exit 245 was my favorite because they sang the most Christmas songs."
Other acts included JMU's own IntoHymn, Madison Dance, the Dukettes, Low Key, and New and Improv'd, as well as original artists Lad in a Battle and Lexie Hayden. 
By the end of the night, Buddy did not only exceed in raising the "Claus-o-meter" to the max with Christmas spirit, but he and the Student Ambassadors also raised a record breaking amount of money: $5510. All of the funds raised were donated directly to Harrisonburg-Rockingham Social Services.
According to Buddy, the best way to spread Christmas cheer is singing loud for all to hear. And Operation Santa Claus proved it.  
If you missed out on Operation Santa Claus, you can visit the Student Ambassador website at www.applysa.com to checkout some of their other upcoming events. Or, keep an eye out for next year's Operation Santa Claus; be there or be a cotton-headed ninnymuggins!
To see more photos from this year's Operation Santa Clause, visit the University Unions photoset on Flickr here.
Published: Monday, December 10, 2012
Last Updated: Thursday, April 19, 2018