News
Serving is Learning
---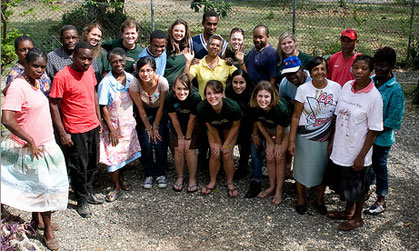 Students on an ASB trip to Jamaica in 2009. Photo by Frank Ameka for Technology and Design. 
By Taylor Hudson
As Gandhi once said, "The best way to find yourself is to lose yourself in the service of others." This quote embodies the mission of Community Service-Learning Office (CSL) at JMU.
It is the role of CSL to act as a liaison between JMU and the Harrisonburg community by providing service opportunities. They also organize and execute many programs such as federal work-study, service fairs, and the Alternative Break Program.
Krysten Yee, a junior Psychology major, started working for the Community Service-Learning office two years ago. Currently, Yee acts as the Youth and Adult Education Service Coordinator at CSL. As an employee, Yee works approximately 10 to 12 hours a week including office hours, staff meetings, and site visits.
"It's not just a job," says Yee. "It's a learning experience. This office is my home base. It's part of my routine. I couldn't imagine my Madison experience without it."
The CSL office is known around campus for the Alternative Break Program (ABP), a series of volunteer trips offered during school breaks that promote hands-on service. These trips occur during holiday breaks, and can range anywhere from national driving trips, to international flying trips. Occasionally, there are short-term weekend trips as well.
For the our upcoming spring break, University Unions is sponsoring an ABP trip to Once Upon a Time Breakaway, a Cherokee reserve in East Tennessee. On the trip, a group of students will be volunteering at various parts of the reservation including the senior center, the childcare center, the health center, and the Sequoyah Museum. Other projects include assistance with maintenance of the national park or home repairs.
Volunteer selection occurs via a lottery. If randomly selected, a student can talk with trip leaders and decide which trip they want to participate in. However, the ABP trip to Once Upon a Time Breakaway is little different - priority was given to University Unions student employees first because the trip is sponsored by the department. The remaining open spots were made available to the lottery. A total of six University Unions employees and three lottery volunteers are going on the trip.
Each trip requires a leader to handle all planning and logistical information. Shae Powell, a full-time University Unions employee, acts as a Learning Partner for the Once Upon a Time Breakaway trip and oversees the planning process. It is her job to offer mature guidance, support, and legal representation.
Powell has been involved with ABP trips before and is excited for this upcoming trip to Tennessee. "When on an ABP trip you are immersed with so many strong, courageous people that you are serving, you learn their stories and become a part of their life for that week," says Powell. "Being able to participate, reach out to people and places, to work together, and make good things happen are strong memories I will carry for a lifetime."
Whether through an Alternative Break Program trip or smaller service opportunities, community service is a valuable experience for students. Senior IDLS major Katie Zumbo, the Aging and Health Services Coordinator for the CSL office, says that community-service has given her irreplaceable practical experience. "It has opened my eyes," says Zumbo. "We get out of the JMU bubble and learn how to handle so many different populations."
For more information on Community Service-Learning and the opportunities they offer, visit their website at www.jmu.edu/csl.

Published: Thursday, December 6, 2012
Last Updated: Friday, April 6, 2018