News
Flourishing Music Scene at JMU
---
By Lauren Privette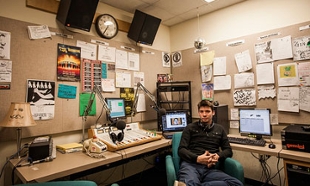 JMU student and WXJM DJ Adam Symborski inside the WXJM studio at JMU.  Photo by Michael Watkins for JMU Technology and Design.
There's a metaphorical river in Harrisonburg that circulates through JMU, downtown, and the surrounding area, with streams jutting off towards Charlottesville and Richmond. This river is rife with music circulating through our community being created and maintained by JMU student and alumni musicians.
"There seems to be some kind of an underground band scene in Harrisonburg," said Jeff Gorman a 2012 History graduate and member of the band Money Cannot Be Eaten. "A group called the Sour Deemsters are pretty well received there." 
The Sour Deemsters manifest a hydrophonic funk sound and recently renamed themselves The Deems. Like The Deems, Money Can Not Be Eaten produces an electric rock/Indie sound and is another of the many bands performing in and around the JMU/Harrisonburg community. Both bands are made up of the usual mix of current students and alumni.
Money Cannot Be Eaten started in 2010 when the founding members were juniors. Now they are a band consisting of current students and graduates—a make-up found with most area bands. "Jake and I met in 2010. We were playing with another group and became friends through the music scene here which eventually led us start playing together as duo for a little bit," explained Jeff, "by January of 2011 we solidified ourselves as Money Cannot Be Eaten. We decided that we would be a four piece band, and it was mainly though friends and other bands that we all came together."
The student-run radio station—WXJM—acts as a dock for local and independent music. Through WXJM, local bands can tie up, perform, and then move down river to other venues. "We do a once a week segment called WXJM live where we have a band do a show in the studio that we broadcast. It's on Thursdays from 8-10pm," said Rachel Smith a SMAD and French major and freeform DJ at WXJM.
"The WXJM radio station also seems to be another place that is a really good funnel of touring bands coming through and promoting some of the more underground bands in the area," said Jake Cochran, member of Money Cannot Be Eaten and recent 2012 Health Sciences graduate.
Along with WXJM, JMU sponsored events provide students with the opportunity to perform and promote themselves as musicians. "We played a handful of JMU events like Live At The Drum. When we were starting out we would go over to TDU for Open Mic Night where we'd just throw out whatever ideas we'd been working on. It was also nice sitting around listening to other groups playing," said Jeff.
This river that is the local music scene is a growing force fueled by the perpetual cycle of student musicians coming to JMU that develop their musical voice in the Harrisonburg climate. So, whether you're a musician or simply a music lover, jump in, the water is fine! 

Curious about other local bands? Check these out:
Two Alpacas
Volstead Agents
Half Circles 
Published: Monday, November 12, 2012
Last Updated: Friday, April 6, 2018