News
Picking Up Speed Dating
---
By John Huffman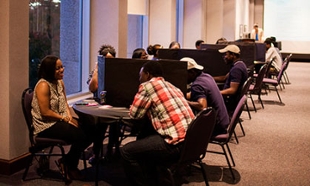 JMU students participating in a speed dating event.  Picture by Michael Watkins for JMU Technology and Design.
Smooth, passionate music set the mood and helped calm the nerves of the hopeful daters at last Friday's Speed Dating, co-hosted by JMU Women of Color and Brothers of a New Direction. The event began at 6pm Friday October 19 and was held in Taylor 405.
To many people, the idea of speed dating can be intimidating, but event organizers took this into consideration and did their best to create a welcoming, no pressure environment where people could have fun and get to know each other. "Our main goal is just for people to meet," says Alexandria Turner a senior Health Science major and President of Women of Color. 
The first daters arrived and signed in at the front table, placing their contact information on a sheet of paper next to a dater number. After picking up a number, they had time to enjoy some refreshments before taking their places at the tables. 
Breath mints and cards with sample questions were placed at each table to help the dates along. The ladies took seats on the inside, with the gentlemen rotating between the chairs on the outside. Each date lasted only two minutes, so every second counted towards creating a good impression. Some of the provided questions included: "What do you do for fun?" and the speed dating staple, "Where do you see yourself in five years?" 
Daters ranged in expectations and approaches. "I just thought it would be fun. It's something I've never done before. I'm here with my friends, so it's something we can look back on," says freshman Health Science major Zelda Tackey. No matter the reason for coming, everyone who attended had an opportunity to meet new and interesting people.  
By the end of the event, everyone had met all attendees of the opposite sex. The final part of the experience had daters fill out a card with the dating numbers of the people they were most interested in. The hosting organizations will act as liaisons and cupids, notifying everyone that they have someone who would like to get to know them better. This was the second time this event has been hosted on campus and planners are hoping to make it an annual event. 
Published: Tuesday, October 30, 2012
Last Updated: Friday, April 6, 2018