News
Harvesting Fall Flavor
---
By John Huffman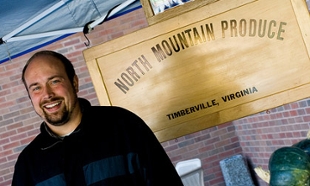 Philip Hege of North Mountain Produce at his booth at the farmer's market at JMU.  Picture by Frank Ameka for JMU Technology and Design. 
Around JMU, the Blue Ridge Mountains change from their normal blue shade to a patchwork of browns, yellows, and reds. Harrisonburg is not only a place to take in the sights of fall, it's also a special place for fall food. JMU is situated in the breadbasket of Virginia—the Shenandoah Valley. When the leaves change, farmers all around the area prepare to enjoy the last harvest before winter. Fall doesn't just influence farmers though; it also energizes many groups around JMU to seek out tasty food, to promote understanding of food issues, and to have fun in the process.
A start to the food fad at JMU this fall will be the Campus Farmer's Market. The event features a variety of fall treats on Warren patio from 9:00am to 3:00pm on October 17th.  
This year JMU is participating in National Food Day on October 24th. Organizers have planned not just one day of events, but an entire week of celebration beginning on October 22nd and going on until the 26th. Sponsors of JMU's Food Day include JMU student groups and campus services, along with various Harrisonburg and Rockingham county organizations. Each day of the week-long festival has a different theme with a variety of events. For more information about JMU's Food Day events, visit their website or check them out on Twitter.
"It's a good opportunity for the JMU community to get educated about food issues that impact them locally, nationally, and globally," says Laura Lorenze, a senior biotech major involved in Food Day planning. Events will include live music, speakers, and the screening of a documentary about a JMU farm course. 
For some students, just hearing about the issues is not enough. JMU students are also getting their hands dirty, working to help local farmers and getting real farm experience in the process. JMU Earth Club members gathered together and formed Valley Crop Mob to benefits Virginia farms. Crop mobs are community organizations that bring together volunteers to work on a farm for a day. Typically, the experience involves a tour of the farm and a 'thank you' meal provided by the farmer. "It's a cool experience because you're getting out of town and onto a farm. You're not surrounded by the hustle and bustle of Harrisonburg. You see these cool and innovative ways that people are farming," says senior SMAD major John Picklap.
Whether it's through actually harvesting it, learning about it, or just plain enjoying the smells and tastes, fall brings a time for JMU to get immersed with local and delicious foods of the season.
Published: Tuesday, October 16, 2012
Last Updated: Wednesday, April 18, 2018