News
Building Manager Constructs a Bright Future
---
By Molly Robinson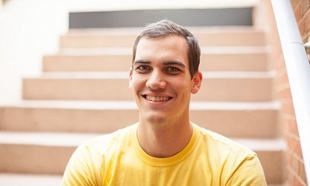 JMU Senior and Madison Union Building Manager Lukas Ace.  Picture by Caroline Prendergast for JMU Technology and Design. 
His large array of interests and organization involvement makes him a very capable building manager for Madison Union. Having started the job in the spring of his sophomore year, senior Lukas Ace has found that there is much overlap between the skills he has applied as a Psychology major and those he uses as a building manager.
Lukas keeps himself busy maintaining at least a 3.5 major GPA and 3.30 cumulative to be part of Psi Chi, JMU's Psychology Honors Society. He is also a Psychology Peer Adviser and a confederate for a Cultural and Racial Diversity lab. As a confederate, Lukas helps to run experiments, gather participants, and code the data found for research.
"With my psychology degree, I've learned how to communicate with people, to look at issues from an outside prospective, to take in the perspective of other people, and I've learned how to generate ideas and seek out solutions. I feel like as far as my role here as building manger, I've been able to take those abilities that I've learned through my major, and get experience using them working with customers. And, if there's an issue with the room setup, how to circumvent the problems and how to handle the situations in a proper fashion."

Interestingly, Lukas got the inspiration to apply to be a building manager in a foreign country. On a summer semester trip to Kenya after his freshman year, his interest in people amplified and he met another building manager who introduced the job. "At the base of any organization are people. I've enjoyed working with people and learning about them."

Lukas likes that building mangers solve the technology problems around the building, and that people come to him for help in the larger-scale issues involving the execution of successful events. "There is more critical thinking involved."

When you first meet senior Lukas Ace, you probably would not guess that he's an aspiring rapper.  Recently, however, he and his roommate have turned their walk-in closet into a recording studio for their rap music. Using his stage name, spaceman, he has performed at TDU and hopes to continue to perform in Open Mic Nights, hosted by Mad4U. In his free time, he also enjoys hanging out with his Tau Kappa Epsilon fraternity brothers.

After he graduates in May, Lukas plans to go to culinary management school in Manhattan, NY and hopes to one day open up a restaurant that combines his love for music, food, and people.

Learn about becoming a Building Manager or Operations Assistant on the University Unions website.
Published: Monday, October 15, 2012
Last Updated: Friday, April 6, 2018