News
Adventure is Her Job
---
By Lauren Privette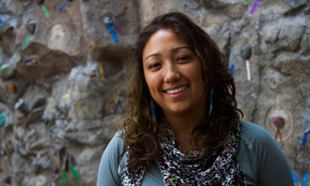 UREC Adventure Manager Sally Ontiveros.  Photo by Michael Watkins for JMU Technology and Design. 
Her commute is the trail through the forest, her workplace the river, and her office the raft or kayak. This scenery is typical for Sally Ontiveros, an Adventure Manager at UREC.

Sally, a junior Geographic Science major with a concentration in Environment Conservation, Sustainability and Development, was hired at UREC spring semester of her sophomore year. Originally hired as an Adventure Specialist, she was promoted to manager and oversees the trips and other aspects of adventure programs. In UREC, she is in charge of the rock wall: scheduling classes, competitions, and setting routes (setting up the difficulty levels up the wall). Her favorite parts of the job, however, are the whitewater trips she leads.

Though she considers herself a better climber, she found that she loves leading the whitewater, especially kayak, trips. "It just gets so variable. You get into different rivers, different rapids or different situations— or maybe the water level is lower or higher than before. If it's higher then it's probably going to be harder. You never really know, so you just go with it," explained Sally.

The connections she makes with her coworkers and trip participators are important to her. "All the trips are memorable, you get close to all the people you go with," reflected Sally. She explains how close and reliant upon each other the Adventure employees have become: "We're a tight group."

These trips can also be dangerous, but fear not! All Adventure specialists are trained as in Wilderness First Aid, and on top of that, it is a requirement for the trip leader to be trained as a Wilderness First Responder. "It gives you piece of mind. It's nice to know, especially when I'm with my co-workers, that they are certified and that they got my back."

For Sally, working at UREC as an Adventure Manager is a small-scale version of her dream job. After graduating she would like to become an Outward Bound guide. Outward Bound is a non-profit outdoor education organization that provides programs for children and adults in need of perspective and personal growth. 

While Outward Bound is a goal, she still prefers not to rely on a plan. She can see herself in Utah or possibly working outside the U.S. Her favorite quote by J.R.R. Tolkien appropriately elucidates her sentiments: "Not all who wander are lost."

Interested in working for UREC or another department on campus? Check with the Student Workforce Experience Center for more information.
Published: Wednesday, October 3, 2012
Last Updated: Friday, April 6, 2018