News
High Hopes for Flight Club
---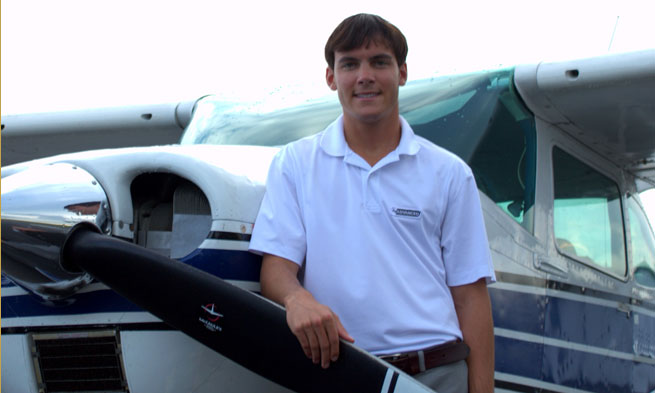 By Molly Robinson

JMU student and aviation enthusiast Pratt Templeton.
Ever since his first flight lesson when he was 9 years old, Pratt Templeton's happy place has been 10,000 feet in the air. Pratt, a junior Business Management major, got involved in flying through his dad, who has a pilot's license. He has 12 years of flying experience and first soloed when he was 18.
From Ambler, Pennsylvania (a suburb of Philadelphia). Pratt found his internship at Advanced Wings this past summer through involvement with Winds Field airport. The company specializes in flight instruction, aircraft management, sales, and maintenance. Pratt's role included billing, flight school, research on competitors, and selling the idea that flying is a better mode of transportation. He is happy that the research he did can provoke small changes in the company to improve its overall value.
He enjoyed the fact that his internship enabled him to be constantly busy and productive for 50-55 hours a week: "One minute you're billing people and the next you're flying an airplane from one airport to the next. It was interesting to me in that sense because sitting at a desk isn't really appealing to me, and so this internship enabled me to do a whole other spectrum of things during the day. Ultimately, the day flies by." Admitting that the internship was stressful at times, Pratt was reminded of the importance of his work when he was able to go flying at the end of every day.
He believes working with people who share the same vision and goal for aviation inspires a new level of productivity. Pratt hopes to bring this collaboration effect to Flight Club, an idea that was conceived in spring 2010. The goals for Flight Club include generating interest in aviation, giving people who want to fly the opportunity to do so, gathering a group of like-minded people together that share the same passion, and even giving people a chance to fly for the first time and get a taste of what it's like.
Right now, Flight Club does not have recognition as a club at JMU. As any other club vying for recognition from the University, it must go through a lottery system. The Office of Student Activities and Involvement allows students with varying interests the opportunity to start a club through the same process. Pratt says that he will continue to build interest for the club and hopes that the lottery system will favor Flight Club soon.
Pratt was first drawn to JMU though the school's popularity in the Northeast. "Once I stepped on campus I fell in love with it. I love the area as well, but the people are what make it special." Although he is currently unsure if he will make a career out of aviation or not, flying will always be part of Pratt's lifestyle.
You can learn more about the process for starting a club or organization from the Office of Student Activities and Involvement.
Published: Thursday, September 20, 2012
Last Updated: Wednesday, April 18, 2018