News
"I'm Still Here" by Emily Cavan Lynch
---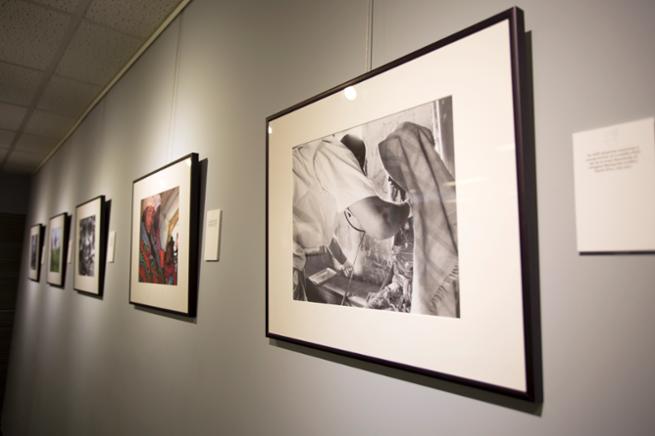 "I'm Still Here" exhibit in Warren Nook features photographs by Emily Cavan Lynch. Picture by Madelaine Stanley for JMU Technology and Design.
By Molly Robinson
In honor of International Week, which started on September 23rd, Madison Union Galleries presents the "I'm Still Here" exhibit. These images portray the humanitarian consequences of conflict in the Democratic Republic of the Congo.

Photographer Emily Cavan Lynch took the pictures while working on a mission trip as a Field Communications Officer with Doctors Without Borders/Medecins Sans Frontieres. She organized the exhibit with other humanitarian workers who lived and worked in North and South Kivu, DR Congo from 2011-2012.

The exhibit is on display in the Warren Nook, which is beside the information desk on the 2nd floor of Warren Hall.  Ms. Lynch will be speaking about her experiences with Doctors Without Borders on Thursday, September 26th in Taylor 405 at 7PM.  Her work was brought to JMU through the combined efforts of Madison Union Galleries and the Office of International Programs as part of International Week 2013.

An excerpt from her artist's statement describes the exhibit:
In the case of this exhibit, these are all images of war. War is a complicated, multi-dimensional thing. Daily life does not stop when war starts, it just becomes starkly, and often strangely, modified. Photos of war should reflect this reality but in our news, media and films how often do they? And would we let them if they did? We yearn for extremes and absolutes. Nuance is troubling.
If there is one thing you take from this exhibit, please consider taking this: neither the DR Congo nor any of the individuals pictured in this exhibit are one-dimensional, static entities, and neither is the conflict that this exhibit represents. Though it has been raging for almost 20 years, this is not a single war and it is not an irresolvable problem.
We keep hoping for peace and we keep working to relieve suffering not because of lofty idealism but because every new day of the conflict and every person who is newly injured or killed demand it. War is not an unbroken event, it is a collection of millions of events, experienced by millions of people, many for the heartbreaking first time.
"I'm Still Here" means we also still need to be here, on behalf of every person caught in the web of this conflict: still hoping, still helping and still responding. (Emily Cavan Lynch, Artist's Statement: "I'm Still Here" Exhibit, 2013)
Published: Thursday, March 1, 2012
Last Updated: Friday, April 6, 2018