News
SMAD Banquet, Awards and Scholarships
Honoring SMAD students' hard work throughout the year
---

Creativity is key to developing messages that consumers will remember, Joe Alexander, chief creative officer at The Martin Agency, told his audience at the 2017 SMAD Awards Banquet.
"Do something that hasn't been done before," Alexander said. "Creativity is much more effective than conformity." 
Alexander, who also is a managing partner of The Martin Agency and oversees 500 people in Richmond, New York and London, was keynote speaker at the awards banquet on April 13, 2017.
Alexander is responsible for the creative output of the agency which includes TV commercials for GEICO, Snapchat filters for Tic Tac, online videos for Oreo, paint can designs for Benjamin Moore and branded content for Land 'O Lakes. He has won every major advertising award, including the Grand Prix at Cannes and an Emmy. Last year, he was named one of the 50 most creative people in advertising and The Martin Agency was named Global Agency of the Year at The One Club.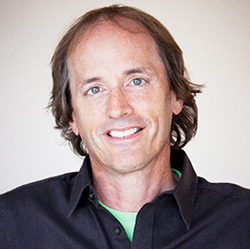 During his keynote, Alexander showed clips of commercials and videos for UPS, Geico and other clients, which The Martin Agency has created for both legacy media and social media. New media formats are an opportunity for his team to emphasize their guiding commitment to nonconformity, Alexander said.
"The media change, but our beliefs never waver," he said. "There are just more ways to be creative."
Alexander made his remarks to 115 SMAD students and their families, faculty, staff, donors and alumni who gathered for the annual presentation of awards and scholarships. The SMAD Scholarship Committee reviewed more than 70 applications and nominations for 11 scholarship programs assisting existing SMAD majors.
Scholarship winners were:
Alison Bailey Parker Memorial Scholarship: Caroline Brandt
Lawrence Cain Memorial Scholarship: Kennedy Heidel
Blanche Garrett Memorial Scholarship: Grant Alger
DeLuca Journalism Scholarships: Matt Weyrich, Caroline Jansen and Bennett Conlin
Madison Screenwriting Scholarships: Julia Lewis, first place; Rishmita Aich, second place
Byrd-Mims Daily News Record Journalism Scholarship: Michael Dolzer
Madison Cinema Studies Scholarship: Julia Lewis
Digital Video Group/Donnie Mongold Memorial Scholarship: Jillian Wright
Alan Neckowitz Study-Abroad Scholarship: Morgan Kolson
John Woody One Day/One University Scholarship: Sydney Thier
SMAD Alumni/Professional Advisory Council Scholarships: Paige Franklin and Kristin Zimney
In addition, Kali Edsall was named Outstanding SMAD Senior for her academic performance. Faculty in each concentration also named an Outstanding Student, an academic honor, and one or two Outstanding Contributors.
Recipients of those awards were:
Converged Media — Outstanding Student: Amanda Harner; Outstanding Contributor, Chase Maszle
Digital Video And Cinema — Outstanding Student, Christina Nesi; Outstanding Contributors, Sarah Gorham and Alexandra Weathersby
Integrated Advertising and Corporate Communication — Outstanding Student, Christina Reilly; Outstanding Contributor, Mary McMahan
Journalism — Outstanding Student, Briana Ellison; Outstanding Contributor, Alyssa Miller
Published: Tuesday, April 18, 2017
Last Updated: Monday, December 11, 2017