Media Arts and Design
Irish Filmmakers Videoconference
---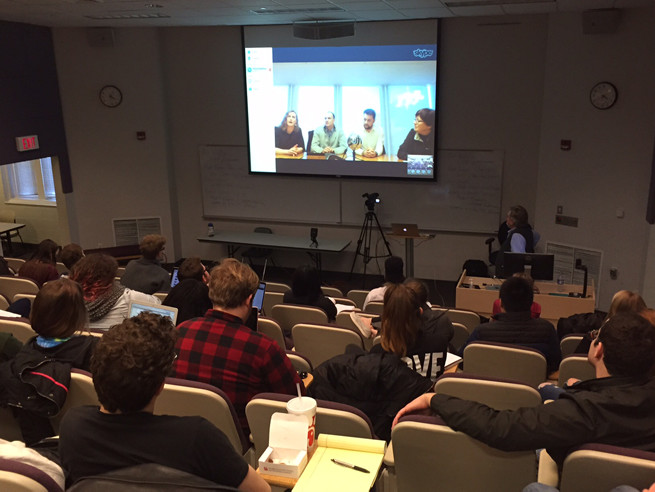 Students in SMAD 380 Introduction to Film recently had an opportunity to Skype with a panel of Irish filmmakers visiting the U.S. for the Capital Irish Film Festival (CIFF) in D.C. The panel included a director, two producers, and the festival programmer. The panelists answered student questions, shared tips on storytelling, and offered advice on getting into the film business.
Alex Fagan (director) and Garry Walsh (producer) of documentary Older Than Ireland shared stories about the subjects of their current film – octogenarians alive before the Republic of Ireland was established. They also talked about their roads to filmmaking and their creative partnership. They stressed the need to be passionate about what you're doing and then just go out and do it. 
Rachel Lysaght talked about two films she produced that were screening at CIFF – Traders, a dark comedy with echoes of Fight Club, and One Million Dubliners, a documentary on the largest cemetery in Ireland. As chair of Irish Women in Film and Television, she also discussed the state the industry for women and pointed out that efforts toward equality are further along in Ireland than they are in Hollywood.
Pat Reilly, the film programmer for CIFF, explained the festival selection process. She thanked the SMAD students who had helped review film submissions for the festival and encouraged all to attend the CIFF screenings.
As expected, students enjoyed the opportunity to talk with working professionals.
Published: Thursday, March 17, 2016
Last Updated: Thursday, April 5, 2018