College of Education
My Experience at Cadet Troop Leader Training (CTLT)
---
My Experience at CTLT
CDT Hart, Curtis D.
c/o 2016, Economics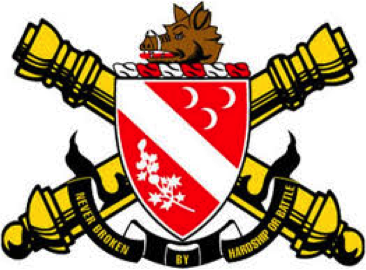 This summer I was able to spend three weeks at Fort Riley, Kansas shadowing a Platoon Leader. This program, Cadet Troop Leader Training (CTLT), afforded me the opportunity to really "see" the Army for the first time. The "lens" of ROTC sometimes obscures the "picture" of the Army; it was refreshing to view it through my own eyes.  I was paired with a First Lieutenant (1LT) from C Battery, 1-7 FA. I learned about an officer's daily life, his interactions with his coworkers, and about some basic equipment used in the Field Artillery branch.
Pictured above is the unit crest of the 7th Field Artillery Regiment. It consists of a shield, a boar's head, and a script superimposed on two crossed field guns. The shield is scarlet, the color representative of Artillery, and the boar's head is indicative of their regimental hospitality. Finally, the script reads "NEVER BROKEN BY HARDSHIP OR BATTLE," the regimental motto.
I truly hit the ground running when I arrived in Kansas. I got off my plane at 2200 on a Sunday night and was out training by 0430 the next morning. When my PL, 1LT Reed, said we were going to the field for two days I was not the least bit excited. However, when we got out there, I learned more than I could have ever imagined. I was able to be a part of a convoy, spend time in Paladins (left) and Bradleys, call for fire, participate in a field leader's reaction course (pictured below), and learn about the GPS system they use as well as the Blue Force Tracker. Furthermore, I was able to fire an automatic grenade launcher called the MK-19. There are no words to accurately describe this weapon except "boom!"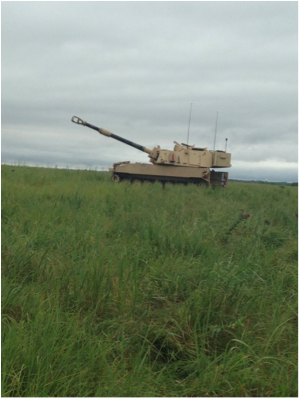 I learned how an officer should interact with his subordinates and NCO counterparts. He was able to complete the mission while treating everyone fairly and with the respect they deserved. I spent time talking to Soldiers of every rank from Private to Sergeant First Class which allowed me to see the organization through their eyes. This will help me when I become an officer because I now know what these Soldiers like and dislike about different styles of leadership.
The thing I liked the most about CTLT was how positive the environment was. Everyone I talked to was more than happy to teach me what I wanted to know. Being attached to an Active Duty unit for three weeks conjured up a lot of questions: can you keep your license plate from anywhere you have been stationed? How do you request time off? What do you do if one of your Soldiers gets injured? How late do you generally work? The list goes on. I believe this experience has helped me immensely in my preparation to become a commissioned officer.
I think that anyone who is given the opportunity to participate in CTLT should do so. Even if the branch assigned to you isn't in your top 3 or 4 choices, you will learn a ton about what it means to be an officer. It is a very different environment than TRADOC, the command that Cadet Command falls under. 
Last Updated: Tuesday, November 7, 2017