University Recreation
Vote for This Year's Intramural Sports Champion Tee Design!
---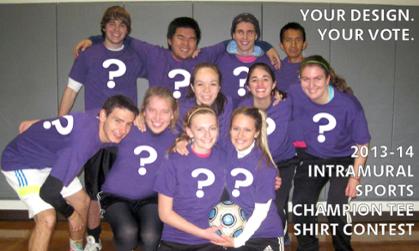 Every year, over 1500 tee shirts are distributed to students who win an Intramural Sport Championship! This year, YOU have a say in what that shirt looks like. 
Student designers submitted artwork for the first-ever Intramural Sports tee shirt design competition over the past few weeks and now you get to pick your favorite.
The winning artist will be awarded a Championship tee shirt and a UREC prize pack. And, they will forever go down in UREC history! 
Yes, you can help promote the design you like! Find the photo on Facebook - like it and share! Make sure to get your vote in by Monday, September 30, 2013 at 9am!
UREC reserves the right to make adjustments (minor or major) to the winning design to meet our brand standards.
UREC Homepage / Facebook / Twitter
Published: Monday, September 23, 2013
Last Updated: Wednesday, February 1, 2017