News
President's December Update
---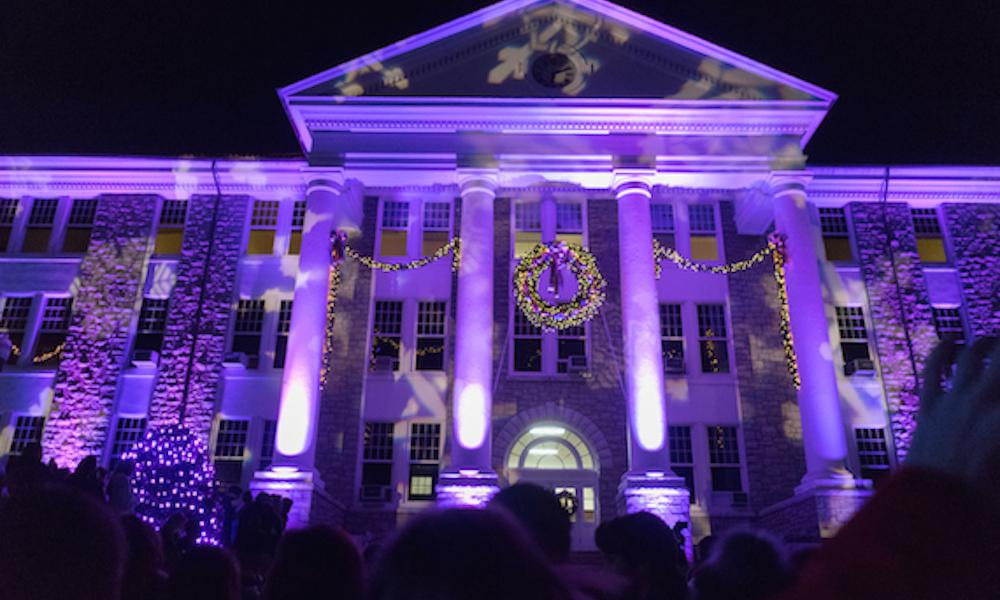 SUMMARY: As we conclude another successful semester together, I want to express my gratitude for our university community and to provide a few quick updates on current events and accomplishments.
---
---
Greetings Faculty, Staff and Students,
 As we conclude another successful semester together, I want to express my gratitude for our university community and to provide a few quick updates on current events and accomplishments.
Commencement
More than 900 students will graduate at December Commencement, which will feature ceremonies on Friday, Dec. 15 and Saturday, Dec. 16. A total of 770 undergraduates and 149 graduate students will receive degrees.  A bachelor of science degree in nursing is the most popular undergraduate major among winter graduates with 121, while master of physician assistant studies tops the graduate degrees with 29.
Construction
Strategic campus construction and development creates an environment conducive to learning and personal enrichment. Over the course of the next year, a number of major campus construction projects will begin while others will be completed.  More than $250 million worth of projects will be in progress during the spring semester, which add to the academic mission of the university while supporting student life and the university's continued engagement with the surrounding community.
Compensation
This fall we were able to offer inversion and compression salary adjustments to faculty and staff.  Our people remain our most valuable resource, and competitive compensation remains one of our top priorities.  We will continue to work on these issues and look for opportunities to address them in the future.
CAA Champs
Three of our varsity teams, football, women's volleyball and women's cross country, claimed Colonial Athletic Association (CAA) championships recently.  The No. 1-ranked Dukes football team has won 24 consecutive games and will host Weber State in the quarterfinal round of the FCS Playoffs on Friday, December 8 at 7 p.m. at Bridgeforth Stadium. Our volleyball team captured the CAA tournament championship and finished the season with a 23-6 overall record, the most wins for the program since 1999. Our women's cross country team won both the CAA championship and the Eastern Collegiate Athletic Conference championship.
Honors and Engagement
My sincere congratulations to many members of JMU nation for recent honors, recognitions, and community engagement.  A few of them are noted here.
The Association of American Colleges and Universities recently honored our nursing and social work programs for civic engagement and is featuring them in its national magazine. JMU is the only university in Virginia honored to have two programs profiled in the organization's quarterly magazine.
Brooks Heffner, associate professor of English, earned a National Endowment for the Humanities grant, which will help fund creation of a web-based tool to make decades of previously inaccessible magazine circulation data available to the public.
Music professors David Stringham and Jesse Rathgeber and social work professor Cindy Hunter won a $20,000 grant from the National Endowment forthe Arts to study the impact of an interdisciplinary, arts-based project on formerly incarcerated persons, pre-service professionals and community members.
Professor Karina Kline-Gabel has been appointed by Virginia Governor Terry McAuliffe to the Virginia Latino Advisory Board. She is the first member of the board to represent the Shenandoah Valley/Harrisonburg area.
Professor Lauren Alleyne's manuscript Honeyfish (to be published in spring 2019) has been awarded the 2018 Green Rose Prize by New Issues Press.  Alleyne is the assistant director of the Furious Flower Poetry Center and associate professor of English.
JMU student Jordan McCray ('20) has won the prestigious Benjamin A. Gilman International Scholarship from the U.S. Department of State to study in Brazil in Spring 2018.
JMU alumnus Ryan James, a Richmond middle school teacher, received a $25,000 Milken Educator Award. James is an eighth-grade history/social studies teacher and head football coach at Lucille M. Brown Middle School. The Milken Educator Awards program recognizes and rewards teachers, principals and other public school educators who promote excellence and innovation.
JMU is one of the 375 most environmentally responsible colleges, according to The Princeton Review. The education services company included JMU in the 2017 edition of its free book, The Princeton Review Guide to 375 Green Colleges. The Princeton Review chose the schools for this seventh annual edition of its "green guide" based on data from the company's 2016-17 survey of hundreds of four-year colleges concerning the schools' commitments to the environment and sustainability.
JMU's chapter of Sigma Kappa fraternity raised more than $55,000 in support of Alzheimer's research through its Walk to End Alzheimer's. This fundraising total placed them among the national leaders for 2017.
The leadership of the College of Business diversity council, the Hart School of Hospitality, Sport and Recreation Management, and the women's lacrosse team joined forces to garner more than 10,000 food items for donation to the Salvation Army as part of the annual Brent Berry Food Drive.
JMU's newly renovated and expanded University Recreation Center (UREC) was featured in the cover story of Campus Rec magazine, which highlighted UREC's priority on creating programs that provide learning outcomes.
 Madison Vision Series
The next Madison Vision Series presentation will feature Lynn Pasquerella, president of the Association of American Colleges and Universities, on February 13, 2018, at 3:30 p.m. in Memorial Hall Auditorium. Pasquerella has written extensively on medical ethics, metaphysics, public policy, and the philosophy of law, and previously served as president of Mount Holyoke College.
"Duo" Enrollment
To enhance information security, we have implemented a new "Duo" two-factor Authentication protocol that adds an extra measure of protection beyond user name and password.  If you haven't enrolled already, I encourage you to do so at your earliest convenience.
Beginning January 17, when you log in to MyMadison you will be prompted to complete Duo enrollment before you can proceed. To avoid potential interruption to your work, please review the enrollment guide and enroll before this deadline. Instructions and more information are available.  For additional assistance, contact the IT Help Desk at 540-568-3555 or helpdesk@jmu.edu.
Good luck to everyone taking final exams, completing projects and competing in athletic events. I look forward to seeing a sea of purple at Bridgeforth Stadium on Friday night. Go Dukes!
With warm wishes for the end of the semester and holiday season,
Jonathan R. Alger

President
Published: Monday, October 2, 2017
Last Updated: Friday, December 8, 2017