News
Alumni Update
Graduation, New Leaders, National Awards
---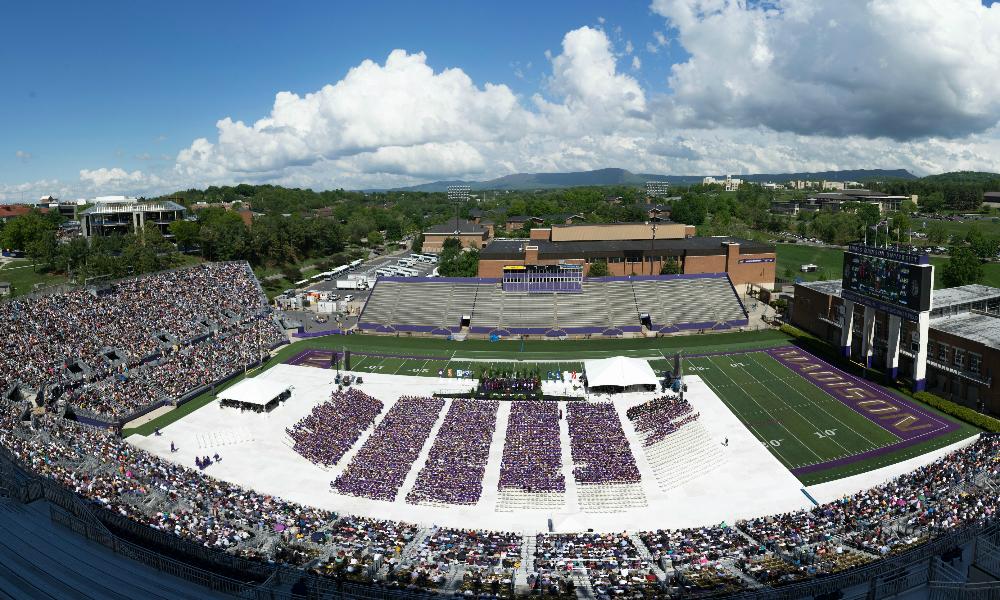 Greetings Alumni,
Recent commencement ceremonies marked the end to another successful academic year. We are pleased to welcome 4,365 graduates to the alumni family.
Graduation offers an opportunity to reflect on all that's happened since my last update. Campus has been buzzing and we have lots of news to share:
 2017 graduates join alumni ranks
We are thankful to our JMU family and friends for helping us celebrate the Class of 2017. Despite some rainy weather, the festivities moved forward. We were thrilled to welcome Arthur Moats back to campus as the commencement speaker. An alumnus, philanthropist and Pittsburgh Steelers linebacker, Moats encouraged graduates to be their best selves and improve the world wherever they go. I am delighted to see yet another group of inspired new alumni pursue their next great adventure, and to continue to engage with ideas and the world.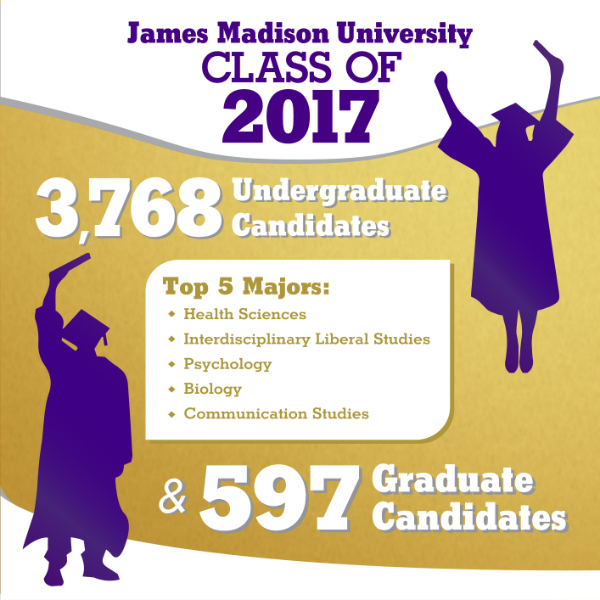 Gallup reports JMU alumni are better off than most college graduates
JMU alumni are significantly better off than most according to research conducted by Gallup, the global research and strategic consulting firm. More than 1,385 JMU alumni participated in a recent survey about a number of dimensions shaping their personal well-being, and on every dimension of well-being—including a feeling of purpose, a sense of community, financial stability, social support and physical health—JMU alumni scored not only far above the national average, but also significantly above the average of alumni who graduated from the top 100 colleges and universities in the U.S. News & World Report rankings. Faculty interaction, engaged learning, and civic and community engagement make up the foundation of the Madison Experience, and we are pleased to have further proof that those factors contribute to alumni well-being.
New academic leaders welcomed
Provost: Dr. Heather Coltman
After an extensive and collaborative search process, I am pleased that Dr. Heather Coltman will serve as JMU's new provost and senior vice president for academic affairs, effective July 1. Dr. Coltman garnered broad support from faculty and staff involved in the interview process and was widely praised for her communication and interpersonal skills. We are thankful to our current provost, Dr. Jerry Benson, for establishing a solid foundation upon which Dr. Coltman can continue to build and create a culture of access and success at Madison. 
Executive Director for the Center for Entrepreneurship: Patrick McQuown
I am also pleased to welcome Patrick McQuown as the new executive director of the Center for Entrepreneurship. Mr. McQuown is a serial entrepreneur and has served as an adjunct professor at Brown University and Providence College, and also as an entrepreneur-in-residence at Yale University. His startup company, Proteus, was a mobile industry leader that developed web-to-text technology and pioneered the texting technology for casting votes for the American Idol television show. 
Executive Director for the Center for Civic Engagement: Dr. Abraham Goldberg
Dr. Abraham Goldberg will serve as the Center for Civic Engagement's first executive director. Dr. Goldberg comes to JMU from the University of South Carolina Upstate where he is the founding director of the Office of Service-Learning and Community Engagement. Dr. Goldberg is an expert on civic education on college and university campuses and has presented his research around the country, including at the White House. 
National recognition and awards
JMU continues to garner accolades and awards from some of the most highly regarded ratings and rankings organizations in the country. These accolades are important as they bring visibility to the university on a national scale and put on display Madison's commitment to affordability, civic engagement and scholarship. This year we have been named:
Construction on campus continues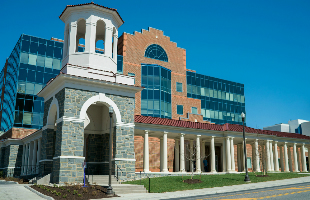 Madison Hall, the former Rockingham Memorial Hospital Cancer Center building, has been completely renovated and is now fully operational. Staff from Admissions, The Graduate School, the Office of Diversity and Inclusion, the Title IX Office, Valley Scholars, the Center for Global Engagement (formerly the Office of International Programs) and Physics now call Madison Hall home. This building has served many in the Harrisonburg area throughout its years as part of the hospital, and will continue to serve the community at large by housing many departments that are external-facing and work extensively with the public.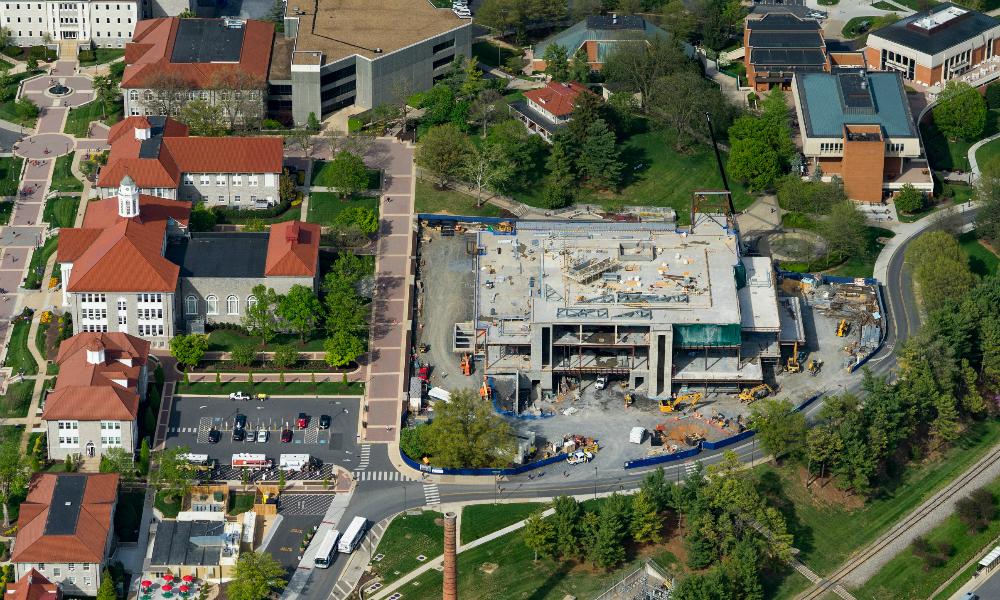 D-Hall construction is underway. The new state-of-the-art dining facility will open in 2018.
Future capital projects progress
College of Business Learning Complex
During Homecoming 2016, we kicked off a public fundraising campaign to solicit JMU's share of the money needed to build a new College of Business Learning Complex that will be an innovative and engaging space for our top-rated business school. We have currently raised $8 million toward our $15+ million goal. We will be breaking ground in Fall 2018.
Convocation Center
We are hard at work raising funds for a new state-of-the-art Convocation Center. This new space will not only meet the needs of our basketball teams and other athletics and academic programs, but serve as a location for commencement ceremonies, trade shows and other community events including concerts. We are well on our way to meeting our goal of raising $12 million. The new Convocation Center will open in 2020.
Madison Week a huge success
We kicked off the week dedicated to James Madison's birthday by bringing back JMU Giving Day for a second year on March 14. A snowy day brought a blizzard of generosity as more than $614,443 and 4,762 gifts poured in. I especially want to thank the 1,286 individuals who gave to the university for the first time on this day. And for those who missed it, you can catch a special JMU Giving Day edition of carpool karaoke.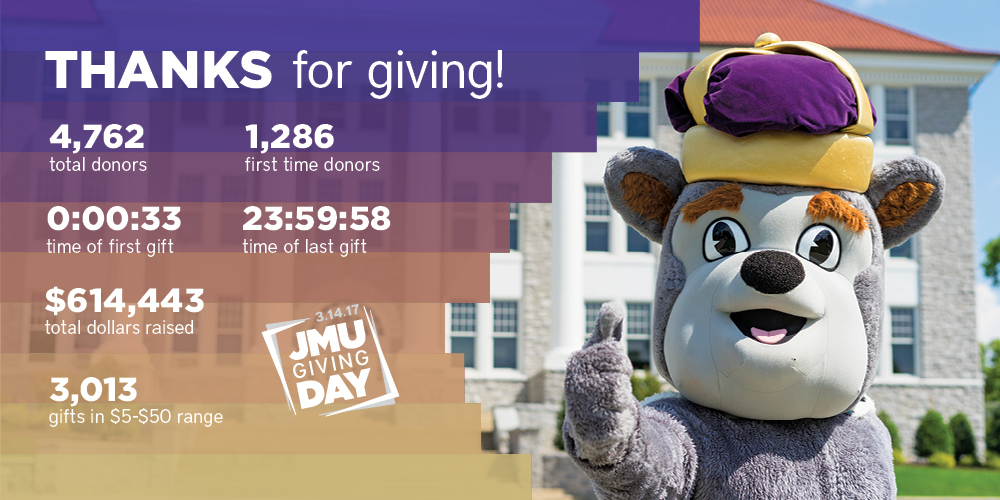 Later in the week we hosted the annual stewardship luncheon, where donors, student and faculty scholarship recipients, administrators and friends came together to hear moving tributes from alumni and thanks from grateful faculty and students.
The week wrapped up with the annual alumni awards dinner where the university honors extraordinary alumni and faculty whose accomplishments benefit both society and our campus. This year John Rothenberger ('88) became the 36th alumnus in JMU's history to receive the Carrier Distinguished Alumni Achievement Award. With a passion for entrepreneurship and innovative thinking, Rothenberger grew multiple businesses and instilled a passion at JMU for entrepreneurial thinking across disciplines with his many years of involvement at his alma mater.
Athletics wins big on and off the field
As you know, we brought home the FCS National Football Championship this year to capture the school's second NCAA Division I football championship since 2004. We are extremely proud of the team and the effort and grit they have shown. We appreciate Coach Mike Houston, who also earned National Coach of the Year, and his staff who helped bring us to a national stage. While all of the players worked extremely hard, we had seven players recognized as All-Americans.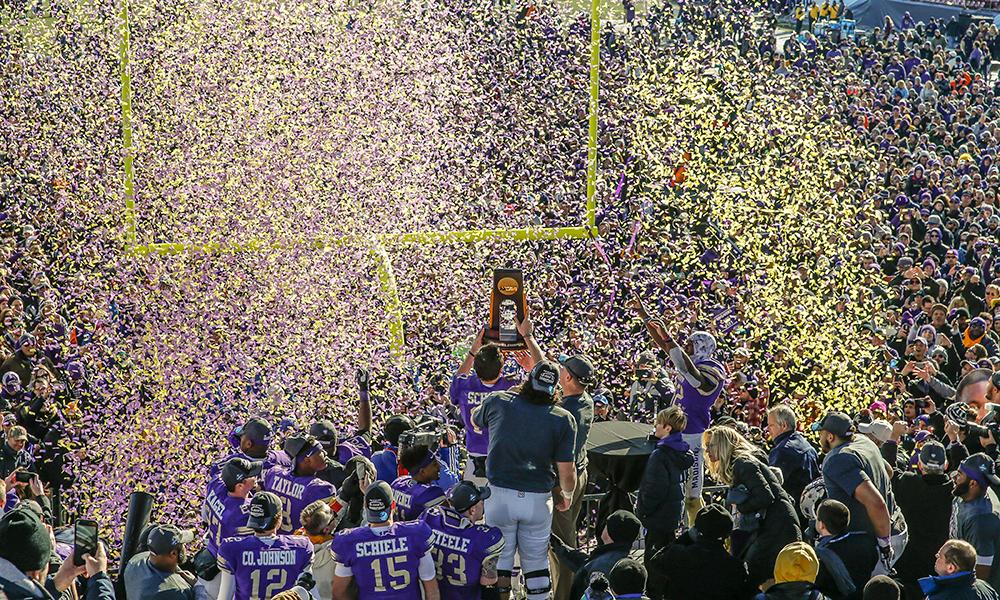 Football wasn't the only winner in the CAA. Volleyball won the CAA championship by winning 10 straight matches to end the regular season. The CAA title was the program's first since 2000. Also, diver Olivia Lehman advanced to the NCAA diving national championship for the second straight year, the first JMU diver to ever qualify twice.
Precious Hall ranked among the nation's leading scorers and established multiple JMU records as women's basketball finished second in the CAA and qualified for the postseason WNIT, advancing to the round of 16. The program had its 12th straight season of 24 or more wins.
Both softball and lacrosse ranked in the top 20 in each of the major polls in those sports.
Lacrosse earned the CAA championship this season, ranked 16th in the nation.
JMU softball team won the CAA championship and traveled to Waco, Texas, for the NCAA regional tournament. The team finished the regular season ranked 11th in the nation. With two wins, the Dukes advanced from Regionals to Super Regionals in Waco. They fell to Baylor University in a tight 1-0 game. We are proud of their great season and look forward to next year.
Off-the-field success
Our new Student-Athlete Leadership Development Initiative is designed to support student-athletes in fostering personal and professional development over the course of their academic careers. There is a specialized curriculum for each academic year, focused on changing developmental needs of student-athletes from freshman through senior years.
Jeff Bourne will be recognized in June as one of four FCS Athletic Directors of the Year by the National Association of Collegiate Directors of Athletics.
On Jan. 28, JMU inducted eight members into its Athletics Hall of Fame, including the 1983 Baseball Team, football's Carlo Bianchini, volleyball's Karla (Gessler) Holmes, cross country's Pete Weilenmann, women's basketball's Meredith Alexis, baseball's Dana Allison, lacrosse's Kelly (Berger) Rabil and baseball's Kellen Kulbacki.
 Thank you for your continued support. I hope you'll be able to join us for Homecoming 2017 or to come for a visit at another time to see for yourself how JMU continues to evolve and grow. 
Sincerely,
Jonathan Alger
Published: Thursday, May 11, 2017
Last Updated: Friday, April 20, 2018