News
Final budget update and other happenings on campus
Budget update, Giving Day, national recognition and more
---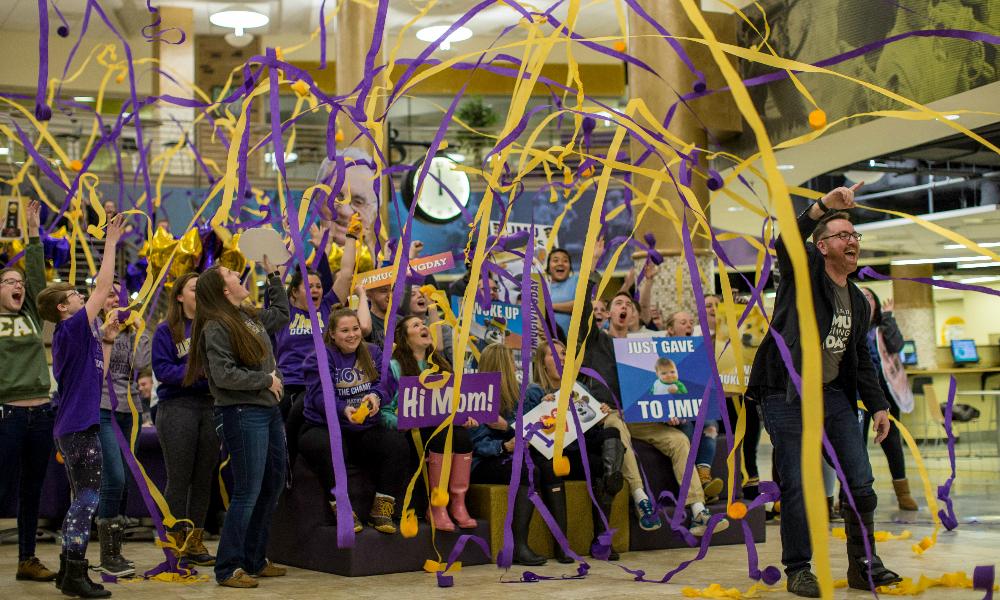 ---
Dear JMU Students, Faculty and Staff,
As the weather turns warmer and spring fever sets in, it is hard to believe that May commencement is less than a month away.  (Speaking of warm weather, watch out for those Frisbees on the Quad).  I know it's a busy time of year for all but I wanted to take a few minutes to highlight some important campus news and recent information from Richmond:
National Recognition
Once again, our graduate programs receive top U.S. News and World Report ranking. Graduate programs in health and business disciplines are ranked in U.S. News & World Report's "Best Graduate Schools 2018" guidebook. Specifically, our part-time MBA, nursing masters program and our audiology doctorate were highlighted among the best. Congratulations on the great work and well-deserved recognition.
JMU was also named a Voter Friendly Campus. Through the efforts of Dukes Vote and our commitment to our university comprehensive engagement plan, we are one of 83 campuses recognized nationally with this honor. Civic engagement and honoring James Madison's legacy are fundamental to our university mission. Keep an eye out for more Dukes Vote information, Madison Vision Series lectures and JMuse Café gatherings.
The John C. Wells Planetarium gained yet another year of recognition from NASA's Safe Place Program for its outreach programs. Last year more than 25,000 people attended the planetarium, which provides a variety of monthly programs and has a wide social media following. Congratulations for another year of creativity, hard work and access to information on space and science.
Blizzard of Generosity: Giving Day
We had a blizzard of success on Giving Day raising $614,443 and receiving 4,762 gifts, surpassing our ambitious goal of 4,000 total gifts, even as the university was closed for a snow day. Of particular importance is that 1,286 individuals became first-time donors on Giving Day while another 828 gave for the first time in a long time.  Our creative team did a fabulous job live streaming updates and creating engaging content such as carpool karaoke. The social media analytics from Giving Day support what we already know, "Dukes show up for days like this."  You certainly did.  Thank you for your generosity and to all those who made the day a success.
Stewardship and Alumni Awards: An Entrepreneurial Spirit
During Madison week, alumni and friends from around the country came together to celebrate the amazing students we have here at Madison and to thank those who give of their talents to make the Madison experience a reality for many students. We also had the chance to recognize many distinguished alumni.  We hosted the annual alumni awards dinner where we honored alumni who excel in their fields and provide a positive example for Dukes who are "being the change." 
John Rothenberger ( '88) was named recipient of the highest honor of the evening, the Carrier Distinguished Alumni Award. He was chosen from an impressive pool of alumni award winners from each college. John has an entrepreneurial spirit and passion for spreading innovative thinking across the JMU campus.  It is fitting for Mr. Rothenberger to be given an award named for Dr. Carrier, whose legacy and entrepreneurial spirit made such a mark on Madison. Congratulations to all the winners.  They are an inspiration to us all.
East Campus Hillside Celebration
We will mark the 5th Anniversary Celebration of East Campus Hillside Project and our commitment to environmental stewardship on April 19, 1-3 p.m. in ISAT. The field has dozens of different species of trees and vegetation that support faculty and student research, and the foliage prevents runoff and erosion. The project has been awarded numerous grants for Facilities Management and won the Governor's Award for Environmental Excellence in 2014. I am excited that we continue to provide innovative ways to practice engaged learning with our environment. Find more details about East Campus Hillside here.
Branding Survey Results
You may remember that I asked you to keep your eyes open for a survey from our Communications & Marketing department back in February. Obviously you were paying attention because the survey response was tremendous: 13,862 JMU community members participated, with the following breakdown by group:
Alumni: 6,157
Parents: 5,147
Students: 1,690
Faculty/Staff: 868
Our consultants are still compiling the data to provide a full report, but the topline results are very encouraging. My favorite data point so far is your answer to the question of whether you agreed with the following statement: "On the whole, I enjoy(ed) my time as an alumnus, parent, student or faculty/staff at James Madison University." On a five-point scale with five being in total agreement, you said you agreed to the following extent:
Alumni: 4.7
Parents: 4.5
Students: 4.4
Faculty/Staff: 4.2
Teaching and learning are more readily enabled and engaged when people are enthusiastic to be where they are. Once the full study is complete, we will publish more results of the survey. I am grateful for your participation.
Commonwealth Budget and Compensation Update
With the conclusion of the General Assembly's veto session yesterday, the commonwealth's FY 2018 budget is complete.  As I've mentioned in previous updates, the General Assembly was tasked with closing the gap on a $784.9 million revenue shortfall.  I am pleased to announce that the three percent salary increase for state employees effective July 10, 2017, remained unchanged in the version of the budget that became law.  We are excited to be able to provide this to our most valuable asset – our employees.
However, the enactment of the state's FY 2018 budget also brings with it a number of cost issues that need to be addressed in the JMU FY 2018 budget, which will be considered by the Board of Visitors at their June 2017 meeting.  JMU is responsible for covering 52 percent of the cost of salary increases for instructional and administrative faculty as well as classified staff.  Additionally, we are responsible for 100 percent of the cost of salary increases for those employees who are paid out of our auxiliary budgets.  The total cost of the education and general (E&G) salary increase to the university is $3.5 million.  The university must also cover a $3.3 million cut to our E&G general funds which support university operations.  Additional cost issues to be addressed include a weighted average employee health insurance increase of $1,142 per employee, and costs associated with enrollment growth, financial aid, strategic plan initiatives and new facility operating expenses.
As is always the case, our number one priority is to maintain and build upon the academic mission of the university.  We have worked hard over the years to reduce our student-to-faculty ratio, and are committed to maintaining our 16:1 student-to-faculty ratio while continuing to serve an increasing number of students.  We believe that the learning opportunities provided at Madison are a hallmark of the experience we provide to our students.  These opportunities are at the forefront of our budget development process each year and university administration will work diligently to see that the commitment to academic excellence is reflected in the budget proposed to the Board of Visitors in the coming weeks.
Summer is suddenly a short time away.  Please know that during this hectic, end-of-semester time, I am thinking of you.  Keep up the hard work, and best wishes for the remainder of the academic year.
Sincerely,
Jonathan R. Alger
James Madison University President
Published: Tuesday, April 4, 2017
Last Updated: Friday, April 21, 2017