News
Madison Week Message
Madison's Birthday, Giving Day, Alumni Awards, Peace Corps and More
---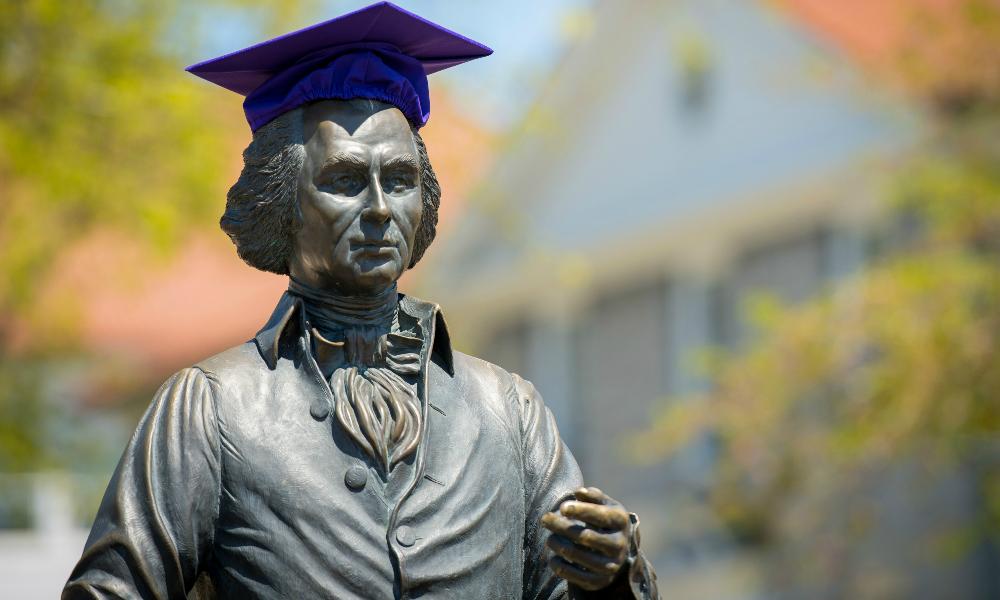 ---
Dear Students, Faculty and Staff,
Welcome back from spring break and happy Madison Week! We will be celebrating James Madison's birthday throughout the week as well as an array of JMU events. Check it out!
Madison Week Events
Giving Day
We are kicking off our second annual Giving Day tomorrow, Tuesday, March 14, rain, snow or shine! This is a 24-hour fundraising marathon. Last year, Dukes rallied around the country to exceed our expectations five times over. This year our goal is to have 4,000 people
 participate. There will be events on campus all day that you won't want to miss. In the Student Success Center, outside Room 1075, we will have our Giving Day studio where JMU celebrities will pop in and take some calls. Come by and join the activities. The Giving Day kickoff starts tonight at 11:30 p.m. when the first 100 students who arrive will receive T-shirts and pizza! If you are on campus, there will be Giving Day stations in Rose and Carrier libraries for you to cast your vote for your favorite library spot. President Rose and President Carrier may even make an appearance for photos. The winning library will feature $1 off drinks at Starbucks! Throughout the day we will have competitions between student organizations, Greek organizations, residence halls and academic colleges across campus. I hope you all participate and show up to give back to JMU! Keep track of all of the activities and progress with our live streaming on Twitter @JMU and on Facebook at James Madison University. Check out givingday.jmu.edu to see the leaderboard for competitions and more information!
In the event that the University is closed, Giving Day headquarters will still be operating in the Student Success Center, room 1075 as originally planned. The Giving Stations located at Rose and Carrier libraries will be moved to the Student Success Center from 2 p.m. to 6 p.m. 
Diversity Conference
On Wednesday, March 15, we will have our 11th Annual Diversity Conference for faculty and staff members. The theme for this year is "All Included, All Engaged." Please sign up for the various sessions and continue learning more about diversity! The conference goes from 9 a.m. until 3 p.m. and includes lunch and a keynote address as well as recognition for the IDEA Grants, Diversity Enhancement Award Program, Women of Distinction Awards and the Provost's Diversity Curriculum Development Grants. Register here!

Alumni Awards
On Friday, March 17, we are hosting a dazzling Alumni Awards event. On this evening we celebrate our devoted alumni and thank for them for all they do and of course, we honor a few special alums. The Graybeal Roop Distinguished Alumni Service Award will be presented, and each college honors a JMU alumnus who has made exemplary contributions to their profession. One of the college honorees will receive the 2017 Carrier Distinguished Alumni Award. Last year's winner was CNN senior White House Correspondent Jim Acosta. Other Carrier recipients include Elizabeth Gauldin, Charles Haley and Barbara Hall. See the list of this year's winners.

CISR Post-Conflict Recovery Week

The Center for International Stabilization and Recovery will host its annual Post-Conflict Recovery Week this year from March 14 to March 17. Adnan Al Aboudi and Mona Abdeljawad—Jordanian human and disability rights advocates—will speak about the situation of Syrian refugees with disabilities and international disability rights. Additionally, the center is partnering with Harrisonburg High School on Thursday, March 16, to have an event featuring a teen refugee panel where local students will discuss issues important to them in light of current events. Closing out the week, JMU School of Art, Design and Art History students will showcase a disability-themed art exhibition with locations on campus and downtown Harrisonburg.
Peace Corps Award
Once again, JMU is among top schools supplying Peace Corps volunteers. Palina Gurung ('14) stated, "The strong community and giving characteristic of JMU influenced my choice to serve in the Peace Corps… It also prepared me to think about the community I'm a part of first and then about my role in it." Palina is training English teachers in Mongolia, and I am proud of her commitment to civic and community engagement. She is one of many touching examples of how members of the Madison family provide service to our global society.
Thank you for all those who have worked countless hours to prepare for another special Madison Week. I am looking forward to our various events that emphasize how we are honoring James Madison's legacy of engaged citizenship every day at JMU.
Sincerely,
President Alger
Published: Thursday, March 9, 2017
Last Updated: Friday, April 20, 2018