News
Giving Thanks
December Grads, JMU's welcoming & inclusive spirit, Gallup survey results and more
---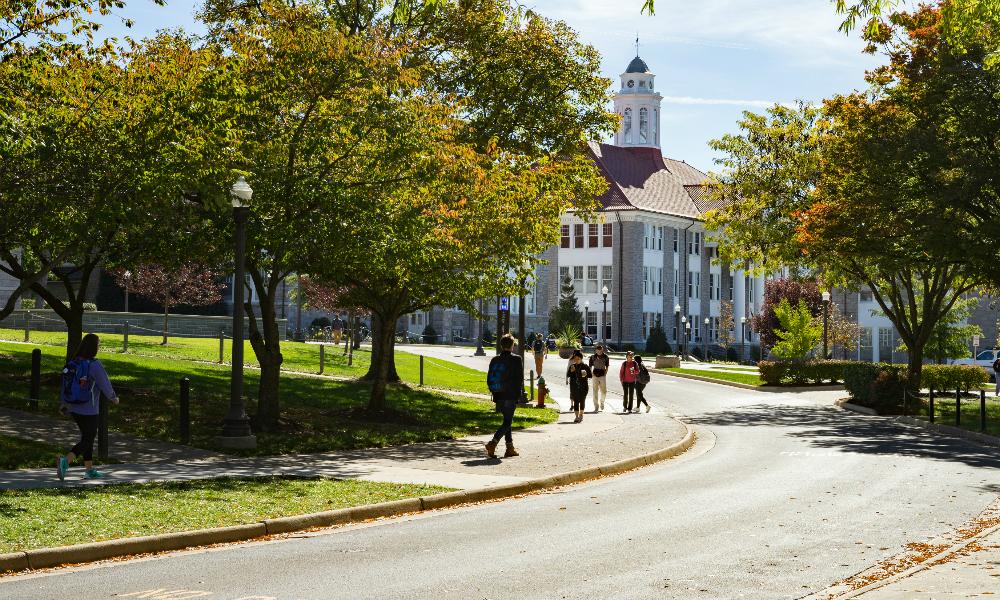 ---
Dear JMU students, faculty and staff:
As we near the end of another successful semester together, I want to express my gratitude for our university community and to provide a few brief updates on current events and accomplishments.
JMU's Welcoming, Inclusive Spirit  
First, in the spirit of the Thanksgiving holiday, I want to express my thankfulness for the welcoming, inclusive spirit of James Madison University.  We celebrate a long tradition as an academic community that cares about its people and relationships, and we recognize that the best possible learning environment exists when everyone is valued and can participate fully. 
For example, just before Thanksgiving break, the D.E.E.P. Impact Dialogue series held its monthly gathering, and over 300 JMU community members attended to discuss the outcome of the recent presidential election.  Supporters of both major candidates for president spoke, as did members of groups concerned about the impact of the election on the future.  Perspectives of all kinds were shared civilly and with respect.  This event was one of many on campus in which individuals coming from a wide range of backgrounds and viewpoints engaged in a respectful and open dialogue, which is exactly what we want to see at this university.  Similarly, the Center for Faculty Innovation held a workshop to provide resources for faculty members who wanted to engage with post-election issues from an educational perspective.
Our diversity in all of its facets makes us stronger, better, more interesting, and more excellent and enriching as an educational institution.  This semester alone, I am reminded of a myriad of other events that I and many others have attended that reflect and reinforce the rich tapestry of people who make up the JMU of today and tomorrow—events such as the Sisters in Session conference (celebrating and supporting Black Women in Academia); our first university-wide reception for first-generation faculty, staff and students; the inaugural banquet of the Madison Hispanic Caucus; and hosting of the AVID program for over 900 prospective first-generation and low-income students.  Just before Thanksgiving, I also participated in a White House Summit on Advancing Postsecondary Diversity and Inclusion, which provided a rich exchange of ideas for ways in which campus communities can come together to work on these issues. 
Building on all of these efforts and on the core quality of access, inclusion and diversity in our strategic plan, I have asked the Diversity Council Chairs (representing all academic and administrative units across the university) to reach out to constituencies on and off campus to develop ideas for additional activities, resources, and dialogue as we go forward.  
Over the break my family had the opportunity to see the Broadway version of The Color Purple, a powerful story of brokenness and redemption.  Fittingly, the color purple itself serves as a symbol for hope in the show—an apt metaphor here for all of us who appreciate what James Madison University has and will continue to stand for.  Having worked as a civil rights attorney, spending my entire career working on issues of inclusion and now being president of a university that bleeds purple, seeing the stage version of The Color Purple was an inspiring confluence for me.
Provost Search
Thanks to everyone for their feedback on the provost search, as well as the search committee for its leadership in this very important process.  We will review all of the input and hope to conclude the search soon.  Updates to the search can be found here.
Gallup Survey Results
You may have heard recently of our strong showing in the Gallup survey of our alumni.  On every dimension of well-being—including a feeling of purpose, a sense of community, financial stability, social support and physical health—JMU alumni scored not only far above the national average, but also significantly above the average of alumni who graduated from the top 100 colleges and universities in the U.S. News & World Report rankings. The full report can be read here.
JMU Program Honored at the White House  
The Reading Road Show, also known as "The Gus Bus," received a 2016 National Arts and Humanities Youth Program Award from First Lady Michelle Obama in a White House ceremony on Tuesday, November 15. A recording of the ceremony is available.
CAA Champions  
Two of our varsity teams claimed Colonial Athletic Association championships recently: 
The football team completed a 10-1 regular season with an unbeaten record in conference play.  They are seeded #4 in the FCS playoffs, and will be hosting the University of New Hampshire at Bridgeforth Stadium on Saturday, December 3 at 2:00 PM.  Come out and support the team!
The women's volleyball team won the CAA championship and is on a roll after winning 10 consecutive matches.  They will be playing in the NCAA tournament, and will face Coastal Carolina inside Carmichael Arena at Chapel Hill, N.C. on Friday, December 2 at 4:30 PM.
December Commencement  
A record number of students will graduate during this annual mid-year exercise.  Nearly 1,000 students will walk during one of two Commencement ceremonies this year:
The Graduate School will hold its commencement on Friday, December 16 at 7:00 PM in Wilson Hall.
The undergraduate ceremony will be held on Saturday, December 17 at 10:00 AM in the Convocation Center. 
Congratulations in advance to all of our students who will be graduating!
Good luck to everyone taking exams, completing projects and competing in athletic events this semester, and go Dukes!
Jonathan R. Alger, President
Published: Tuesday, November 29, 2016
Last Updated: Thursday, April 5, 2018