Presidential Update: March 2016
---
Greetings Students, Faculty and Staff, 
With spring break here, I hope you'll take some time to reflect with me on how the semester has unfolded and what we have to look forward to as the school year comes to a close.
One topic I have been reflecting on this past semester is innovation, and the ways in which we partner as a community to develop creative solutions to tomorrow's challenges. Part of engaged learning is finding your passion and developing the skills to pursue it. With that, I will leave you with a few updates and wish you well on your break. I look forward to welcoming you back to Madison Week, beginning on March 14.   
Updates from the President's Office
Service is woven deep into the fabric of JMU. This past February, I signed a compact with other college presidents from across Virginia pledging JMU's commitment to a national year of service. Read more about our progress and this initiative here.

The Madison Vision Series continues to encourage civic discourse as Margaret Hu, assistant professor of law at Washington and Lee University, came to discuss her findings on cybersurveillance and had audience members questioning how technological innovations will affect citizens' constitutional rights. 
Awards and Recognitions
Debut of On-Campus Precinct: After much planning, a new precinct has opened on our campus. Over 1,000 voters, most of whom were students, showed up on Super Tuesday. I am proud of our students for making a difference by voting and am looking forward to future opportunities for civic engagement on and off campus.
Alumni Peace Corps Rankings: JMU is ranked No. 16 among large schools on the Peace Corps' 2016 Top Volunteer-Producing Colleges and Universities list with 35 Dukes currently volunteering worldwide.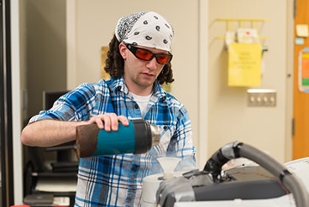 Colleges that Pay You Back: JMU is profiled in the new 2016 edition of "Colleges That Pay You Back: The 200 Schools That Give You the Best Bang for Your Tuition Buck." This measure looks at our academics, affordability and career prospects.
MONEY recognizes STEM quality at JMU: Our outstanding STEM programs have earned the school a place in MONEY's ranking of 25 Great Colleges for Good Science Students. The ranking takes into account admission to programs and average salary after graduation. 
Upcoming Events: Madison Week
Activities celebrating the ideals and legacy of James Madison will commence immediately upon your return to campus.
JMU's first ever Giving Day is happening on March 15. Join Dukes around the world as we come together for 24 hours to connect and give back to the university we love. Visit givingday.jmu.edu to learn more.
Following Giving Day, my office will be hosting the 10th Annual Diversity Conference on March 16, for faculty and staff. The theme is "I am Diversity." The involvement of our faculty and staff will encourage innovation and action towards creating a beneficially diverse environment on campus. Registration is now open. Sign up and learn more here. 
Our final Madison Vision Series event for the semester will feature Dr. Sylvia Hurtado on March 17, at Grafton-Stovall Theatre from 3:30 to 5 p.m. She is a professor at the Graduate School of Education and Information Studies and the director of the Higher Education Research Institute, at UCLA.
As we celebrate Madison the man, and Madison the university, we look forward to sharing the fellowship of donors and supporters at a stewardship luncheon to be hosted March 18, to to express our appreciation to those who continue to support the University. Finally, on Friday evening we will be hosting the Alumni Awards Banquet, where we will be honoring our distinguished guests who exemplify what it means to be the change.
Thank you students, faculty and staff for your hard work, for thinking innovatively and engaging with your work and studies, and building up and supporting James Madison's Legacy on campus.
Sincerely,
Jonathan Alger, President
Published: Tuesday, January 12, 2016
Last Updated: Tuesday, June 13, 2017