News
Presidential Update - Welcome Back 2016
---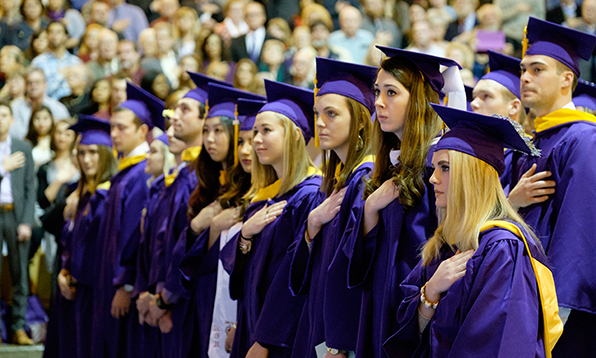 JMU Community,
For those returning to campus, welcome back.  Happy New Year from James Madison University!  Reflecting on the joys, accomplishments, charity and enthusiasm of 2015 gives me hope and inspiration for what lies ahead in 2016. 
December Graduates
On Saturday, December 19, we conferred degrees on almost 900 new graduates.  720 undergraduate and 166 graduate students are among our newest alumni.  We are so proud of all that they have accomplished and are excited for this next chapter of their lives!  We were also pleased to confer honorary degrees on our commencement speaker, Denyce Graves, and Jeanne L. Narum for their contributions to their respective fields of music and education.   Despite Ms. Graves' remarks being interrupted by a fire alarm and temporary evacuation, she was unflappable.  Her message of love in a world where it is sometimes difficult to love was inspiring to all.  Read more about her remarks here.
Faculty Accomplishments

I am proud to recognize our awe-inspiring faculty members, who have not only garnered our appreciation, but who continue to receive recognition both on and off campus.  This year the State Council of Higher Education for Virginia will be honoring Dr. Chris Hughes, professor in the department of Physics and Astronomy, as a recipient of the Outstanding Faculty Award.  This award is one of the highest bestowed by the State Council.  Dr. Hughes is being recognized for his superior accomplishment in teaching, research and public service. Thank you, Dr. Hughes, for your terrific work!  A number of other JMU faculty members were finalists for the award.  Congratulations to Dr. Theresa Clark, professor of marketing, Dr. Michael Deaton, professor of integrated science and technology, and Dr. Kristina Doubet, associate professor of middle, secondary and mathematics education.  Thank you for your continued service and dedication to our students and our community!  Read more about these professors and this award here. 
Athletics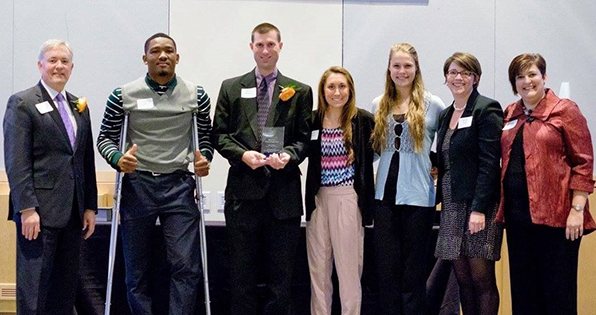 This fall semester our athletes have shined. Women's Soccer won the CAA tournament while football, field hockey and volleyball either shared or won their regular season titles. We also had five student-athletes named All-Americans.  Congratulations to field hockey players Taylor West (second team) and Loes Stijntes (third team), as well as football players Andrew Ankrah (second team), Mitchel Kirsch (second team) and Vad Lee (third team). Finally, Redshirt senior center Dominick Richards was named a FootballChampionship Subdivision Athletics Directors Association (FCS ADA) Academic All-Star. Richards is just the second JMU player ever to garner the award and the first since 2005.  He was one of five Colonial Athletic Association players to be honored on this year's list. A total of just 52 players in FCS were so recognized.
It's not just our student-athletes' performance on the field that makes us so proud.   Their efforts in the classroom and in the community continue to make a difference.  JMU Athletics was awarded the Youth in Philanthropy Award from the local chapter of the Association of Fundraising professionals.  Our student-athletes and athletics department have logged at least 5,000 volunteer hours this year. I applaud our athletes for embodying our ethos of Be The Change. 
As we look ahead to spring semester both of our basketball seasons are underway, with both teams holding winning records. I look forward to the success of our spring season!
As you know by now, our head football coach, Everett Withers, accepted the head coaching position at Texas State University.  We appreciate the passion and dedication he put into his position for the past two years. While we are disappointed to see Coach Withers go, our football program is well positioned to build upon our recent success.  We will move quickly to find a head football coach who will help our student-athletes succeed in the classroom and on the field.  For more information about the coaching search, visit JMU Sports' Q&A with Athletic Director Jeff Bourne. 
Renewing Civil Society
Becoming the national model of the engaged university requires us to foster engagement in three areas:  engaged learning, community engagement and civic engagement.  Our latest issue of Madison focuses on civic engagement and renewing civil society locally, domestically and internationally.
Domestically
The Institute for Constructive Advocacy and Dialogue advocates for the Madisonian principle under which all voices can be heard and respected in a public forum.  Students in Dr. Lori Britt's Facilitating Community Engagement class (SCOM 447) are taught methods to frame conversations between students at our university and individuals in the community.  By interacting with each other we can return to civility and grow together.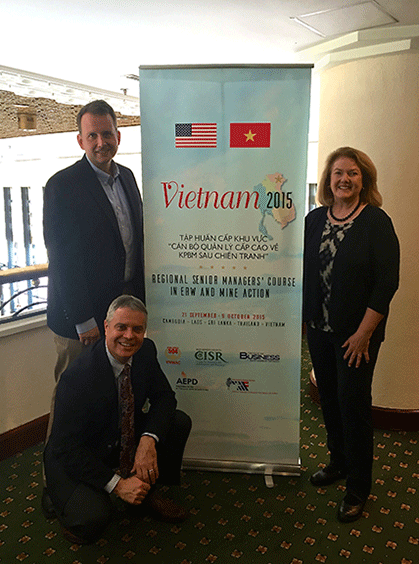 One student (and now alum) who has been making an impact is Josh Humphries, a December political science graduate, who shepherded a request to the city to create a voting precinct in the Convocation Center. His engagement in community politics will help give our students a greater voice in society.
Dr. Danielle S. Allen encouraged a greater voice in society during our latest installment of the Madison Vision Series.  Here, she reflected on what it takes to be the ideal citizen and how the liberal arts play an essential role in our involvement.
Internationally
At JMU we not only open doors for each other as we walk into buildings across campus, but we have opened doors for our students internationally.  We moved to first place among master's colleges and universities in the number of students participating in short-term study abroad programs, according to a report by the Institute of International Education.  It is exciting that so many of our students are broadening their perspective by learning to value a culture that is not their own! 
Not only have many of our students traveled abroad, but our faculty members engage with other countries to give them more tools to succeed.  The College of Business and the Center for International Stabilization and Recovery partnered using their unique skillsets to teach international NGO leaders best practices in management.  They show us how each person's strengths, no matter what the field, can be used to help others and to give back to society on a larger scale.
Through our leadership and membership in the International Network of Universities, we are committed to helping to prepare our students to be global citizens.  The INU provides opportunities for cultural exchanges and learning.  Recently, the INU Global Citizenship and Peace Conference was held in Hiroshima, Japan.  The conference began on the 70th anniversary of the bombing of Hiroshima in World War II.  Through this conference, students and professors of diverse backgrounds and ideas gained a better understanding of the impact of such devastation and discussed ideas of how to prevent something of that nature from ever happening again.

Generous private giving continues unabated
Since we celebrated our previous fiscal year's banner giving last semester, I'm happy to share with you at the beginning of this semester that gift activity has not abated. Our development office continues to successfully engage donor prospects. I'm happy to share with you a few recent gifts—among many others—from our generous donors.
Leadership Gifts for the College of Business Learning Complex
Many of our donors feel strongly about helping students experience the benefit of a JMU education. As you know, our campaign includes a fundraising priority for a future College of Business Learning Complex, designed to accommodate today's collaborative and experiential model of business education and to prepare students for the corporate environment. Enrico Gaglioti ('94) and Jarl ('84) and Beth ('84) Bliss are visionary investors in this project, each making leadership gifts of more than $1 million toward the new complex.
With his gift, Enrico named the Enrico S. Gaglioti Capital Markets Lab in the CoB complex. Enthusiastic about his learning experience at Madison, Enrico established a connection between Wall Street and JMU providing students and young alumni with formative experiences in New York City. He has been involved with the college's Board of Advisors (BoA) for years, and he had earlier named the existing capital markets lab in Showker Hall with a previous gift.
The Blisses designated their gift to name the concourse that will connect the renovated Showker Hall to the new CoB Learning Complex. They have long been engaged with JMU as volunteers and donors. Jarl is an accounting graduate and currently serves as the chair of the BoA. Beth is a biology graduate and is serving as vice chair of Women for Madison, an exciting and vital leadership and philanthropy affinity group at JMU. They have previously supported athletics and established the Elizabeth McConnell Bliss Endowment for Undergraduate Research in Science and Mathematics.
Two alumni honor their experiences in Military Science and Education
James ('94) and Jill ('93) Fugit are helping students from their JMU majors and in similar career pursuits.  Each gave a $250,000 gift directed toward two areas important to the couple. James is an international affairs graduate and veteran. Jill is an English graduate who has spent her career in teaching. They established the James D. Fugit '94 General Endowment in Military Science and the Jill Barone Fugit '93 Scholarship Endowment in Education.
JMU Alumni Association and JMU Alum/NFL Player Step up for the New Convocation Center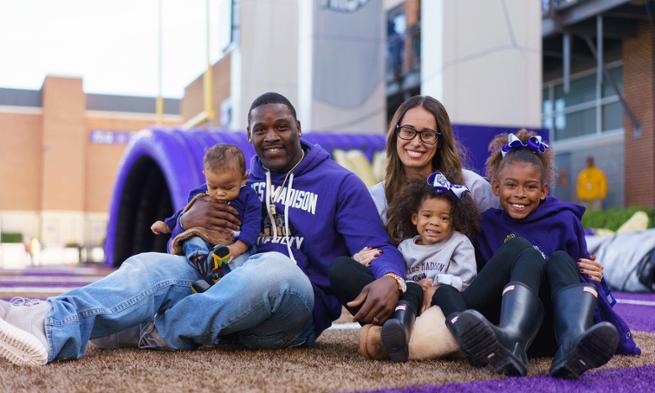 We are grateful to Arthur and Shonda Moats for giving back to the JMU community through a very generous gift.  Arthur is a 2012 graduate and a starting linebacker for the Pittsburgh Steelers. Arthur and Shonda have a personal philosophy to use what they have been given to help others. Arthur has been recognized for his many efforts within the communities where he has played football. The Moats chose to invest $300,000 in the new Convocation Center and endowed a student scholarship at Madison in the studio arts.
Finally, the JMU Alumni Association gave $500,000 toward the construction of the new Convocation Center on campus. With this gift, the Association also issued a challenge for further alumni support in the upcoming semester.
Thank you to all of our generous alumni!
As our students return to campus, university life resumes in full swing.  The JMU Board of Visitors will meet on this coming Friday, January 15, and we will provide our usual update after that meeting.  In addition, the new General Assembly legislative session will be gearing up, and we will be following with care the budget as well as other issues having an impact on higher education.
Good luck with the start of this new semester, and let's continue to build upon the many successes of 2015.  Here's wishing you the happiest of new years!
Jonathan Alger
President,  James Madison University
Published: Tuesday, January 12, 2016
Last Updated: Thursday, April 5, 2018